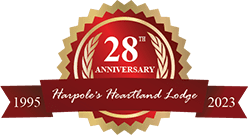 Birthday Trip Vacation Ideas
Birthday Getaway Trips
If you are searching for the best birthday getaway or birthday vacation trip, Heartland Lodge has you covered! Several of our guest make spending their birthday at the lodge a tradition! Whether it's an extra special year like your 30th, 40th or 50th birthday or any in between! If you are looking for a romantic birthday getaway or a birthday party with friends and family, Heartland offers the perfect combination of fun activities and secluded privacy.
---
Birthday Vacation Ideas & Trips
Heartland Lodge offers a unique and fun birthday vacation trip idea! Rent a lodge or cabin exclusively for you and your group or you are able to reserve a particular luxury suite or private luxury cabin! Our luxury lodges and cabins offer the most amazing views, include deluxe suites with hot tubs and birthday party event spaces! If you are looking for a lodge or cabin to escape for your birthday from the fast pace of Chicago, the busy streets of St. Louis, or anywhere in-between, these are a perfect idea for your birthday vacation getaway!
If you would like to reserve exclusive use of one or several of our luxury lodges or cabins for your birthday getaway, please review our Lodging Options Here and reserve your dates either on our Online Reservation System or by calling us @ 217-734-2526.
Email: (BirthdayGetaway@HeartlandLodge.com)
To view our full list of lodging options for a Birthday Getaway, Click Here >>>
---
Birthday Getaway Activity List
Fishing & Guided Fishing Trips There are four fishing ponds located at the Heartland OHV Park and we're only 17 miles away from the 200-acre Pittsfield Lake! Rent one of our Polaris Side by Sides and fish all the ponds in the OHV Park. We also offer guided ½ and full day Mississippi River catfishing trips!

UTV Polaris Rentals There isn't a better way to enjoy our beautiful rolling countryside than taking an equally relaxing and exciting ride on our Polaris rentals!
Horseback Riding Trails If you enjoy horseback riding and being around others who love horses, you will fall in love with Heartland Lodge's Riding Stables. You can bring your own horse too!
Sporting Clays Course Enjoy a half round (50 shots) or a full round (100) on our beautiful 15 station sporting clays course! Rental guns available!
ATV/ UTV/ Dirtbike Riding Our ATV park and lodges are quickly becoming a "vacation hot spot" for individuals, families and groups that are looking for a nice place to get away and have miles of trails to ride their four wheelers, UTVs and dirt bikes. Our ATV park is the largest in the state at 1,200 acres and over 60 miles of trails!
Scenic Hayride & Bonfire with Smores! Our one hour long scenic hayride along the Mississippi River bluffs is a favorite with our guests! Relax around the bonfire and enjoy some Smores!
Pistol Range All guests staying overnight can enjoy our outdoor pistol range for Free!
Special Events Winery & Brewery Tours – Girls' Getaway Weekends – Special ATV Weekends – Romantic Month – Couple's Weekend – Wild Berry Picking Weekend – Fourth of July Celebration – Morel Mushroom Picking Weekend- and more! Sign up on our website to be notified via E-Mail!
Whitetail Deer Shed Antler Hunting (FREE When You Stay Overnight) During the months of February and March, many guests enjoy hunting for shed deer Antlers. Yes, you get to keep any you find!
Morel Mushroom Hunting (FREE When You Stay Overnight!) In West-Central Illinois where Harpole's Heartland Lodge is located, morel mushrooms are certainly the mushrooms of choice. They are often found on the properties here during April and May. Fresh morels are the ultimate spring delicacy!
Wild Berry Picking (FREE When You Stay Overnight!) Around June through August is the time of year for picking wild Blackberries and Raspberries in Illinois! The Heartland Lodge properties are loaded with these tasty berries.
All-Inclusive Hunting Packages We offer fully guided, all-inclusive Upland, Whitetail, Waterfowl and Turkey hunting packages. Orvis & Shooting Sportsman Endorsed*
---
Romantic Birthday Getaways
Heartland Lodge is the absolute perfect destination for a romantic birthday getaway! Heartland Lodge has been voted one of the top romantic destinations in the state of Illinois! With options such as the Private Luxury Cabins that feature a two-person jetted tub, fireplace and ultra-comfy king bed, you will not be disappointed for spending your birthday at the lodge!
Other romantic and fun activities to do on your birthday getaway:
Romantic Horseback/ Picnic Ride for Two!
Romantic Basket- Includes souvenir wine glasses, fruit & cheese.
Cuddle Basket- Includes hot chocolate, popcorn, and homemade cookies.
Sunset Hayride & Bonfire
Hiking Trails
For more information on a Romantic Birthday Getaway Click Here>> 
---
Shopping Opportunities & Local Attractions
Exploring both the Illinois and Missouri sides of the Mississippi River along The Great River Road and National Scenic Byway is an outstanding day trip. While driving "The Loop", you will travel through towns like Clarksville, MO and Grafton, IL and cross the bridges in Alton, IL and Louisiana, MO. You can even use the Golden Eagle Ferry, Kampsville Ferry or Brussels Ferry to cross the river. There are many attractions along this route to highlight your drive. Keep your eyes to the sky for the chance to see an eagle during eagle watching season. Read our blog on The Loop>>
The small towns and communities surrounding Heartland Lodge are a great place for antique shopping. The Clarksville Antique Center, located on The National Scenic Byway in Clarksville, Missouri, is a large antique mall with over 100 booths, display cases and vendors. Louisiana, Missouri has a couple of places located on Georgia Street. The Painted Horse at Summer Hill are located on IL Highway 54 but you will find many other treasure shops in the countryside surrounding the lodge.
So if you are looking for a great weekend getaway, Heartland Lodge is THE resort for you. Come to Heartland Lodge to connect with nature, family and friends, or even yourself, and experience one of the best weekend getaways in the Midwest. The setting, the accommodations and the amenities will keep you coming back for more!
More Information on Local Attractions >>
---
Book your Birthday Getaway Today! Call 217-734-2526 or E-Mail Office@HeartlandLodge.com for more information!
Click Here To Book Your Birthday Getaway Online >>
Last Updated: May 4th, 2023