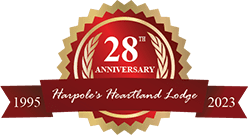 Enjoy a Scenic Day Trip While at the Lodge!
So you decided to book your getaway at Harpole's Heartland Lodge.  You're taking in all the wonderful amenities available at the resort – the incredible dinner, the scenic hayride, the roaring bonfire with s'mores, and a good night's sleep in the triple-sheeted beds in the privacy of your luxury suite.  The accommodating staff has prepared a hearty, home-cooked breakfast that you are enjoying while trading stories at the table.  The topic turns to "so, what do you have planned for today?"
Whether you are headed home or have additional nights booked, driving "The Loop" is a great way to spend the day.  The Loop winds through both Illinois and Missouri along the scenic Mississippi River and offers a great chance to explore the countryside.  Dan and I live just a few miles off of Missouri's Scenic Byway, Highway 79 and over the years, we have explored many pathways to and from the lodge.  We are always looking for a new route or a new little gem tucked somewhere to explore and enjoy.
We normally drive-up Highway 79, have lunch in Clarksville, MO before spending a couple of hours at the Clarksville Antique Center. (Top Ten Things to See in Clarksville & Louisiana, MO)  Highway 79 then leads us up through Louisiana, MO where Route 54 crosses the bridge over the Mississippi River into Illinois.  We will then head south from Atlas, IL on Rt. 96 to just south of Pleasant Hill where you can follow the signs to the lodge. (Top Ten Things to See in Pike County, IL)
Our return trip will vary depending on what we have planned for the afternoon and evening.  We normally take Hwy 96 on south from the lodge to Route 100, which we follow past Pere Marquette State Park along the Great River Road, through Grafton to Alton, IL. (Top Ten Things to See in the Grafton & Alton Area)  Sometimes we will stop at Eckert's Orchard in Grafton and pick some fresh fruit (when in season), do some antique shopping in Alton or head on down to Busch Stadium in St. Louis for a Cardinals game. (Top Ten Things to See in St Louis, MO)
Crossing the Lewis & Clark Bridge in Alton opens up several more options for your trip – take 67/367 to Interstate 70 and head west into St. Charles, MO – checking out all the unique shops on St. Charles Main Street along the way.(Top Ten Things to See and Do in St. Charles.)  Interstate 70 will take you west to Highway 79 for your trip back north/northeast to the lodge.  You can also grab the Golden Eagle Ferry in northern St. Charles County and loop back around to Illinois from there.
If you are more the adventurous type, there are many little country roads and side trips you can explore – check out the Brussels Ferry just north of Pere Marquette State Park – it is one of our favorites – and a great place for eagle watching.  You could also reverse most of these routes and enjoy the sites from a different point of view.  I still prefer the old-fashioned method of using a map but no matter what method of navigation you use, this southern loop from Heartland Lodge offers the explorer in you a great way to spend the day.
Lori Biehl
Twenty (+)-Year-in-a-Row-Guest
Last Updated: September 6th, 2023