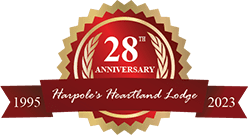 Upland & Turkey Combo Hunt Special!
An upland/ turkey combo hunt is the perfect way to spend a spring day at Heartland Lodge! In the mornings enjoy hunting wild Eastern turkeys in the beautiful rolling hardwoods of Southern Pike and Northern Calhoun Counties where an abundance of turkeys can be hunted. After a hearty, home-cooked lunch prepared by our chef, head back out to the upland fields to experience some of the best quail and pheasant hunting in the country at our Orvis & Shooting Sportsman endorsed wingshooting lodge! It's a full day of action-packed hunting that you will be sure to enjoy and cherish for the rest of your life! Early April in Illinois generally means comfortable temperatures, no bugs and lots of happy hunters here at the lodge!
Combo Youth Turkey/ Upland Hunt
Our youth turkey hunts at the lodge our a favorite for our guides and our guests. We take great pride in presenting a safe and enjoyable experience for our youth turkey hunters. We get the pleasure of experiencing several of our youth hunter's first turkey! A memory that will be treasured for years to come. In Illinois, hunters can only turkey hunt until 1:00 P.M. This allows our youth hunters as well as their parents to enjoy an afternoon hunt in the upland fields after turkey hunting in the morning!
Illinois has two youth turkey hunting weekends. Generally, the last weekend of March and the first weekend of April. Youth turkey tags can be bought over the counter. If you have any questions or would like to book a hunt, please give us a call at 217-734-2526. There is limited availability for our youth turkey hunt/ upland hunts, it's best to book as soon as possible!
For more information on our Guided Youth Turkey Hunts Click Here>>
Youth Turkey/ Upland Hunt Combo Package Details
3 Night, 2 Day- Youth Turkey/ Upland Combo Hunt
Friday (Arrival Day)- Check in is between 3:00- 5:00 P.M. After checking in and meeting with your turkey hunting guide, we will have the youth hunters shoot their turkey hunting gun a few times to see how the gun patterns and to make sure the youth hunter is comfortable shooting their firearm. We also encourage both the youth hunter and their parents to shoot a round of clays at our 15-station sporting clay course on check in day. A gourmet supper is served at 6:00 P.M. Hunters are welcome to enjoy the hayride and bonfire after supper. Breakfast the next morning is continental. After the morning's turkey hunt, lunch is served at 1:00 P.M. After lunch and a short orientation meeting with your upland guide, hunters will head to the upland fields. After the upland hunt, supper is served at 6:00 P.M. A hot breakfast will be served on your departure morning (Monday).
Regular Season Turkey Hunt/ Upland Combo Hunt Packages
Our upland hunting season ends on April 15, which coincides with our youth turkey season, and usually the opening week of regular turkey season in Illinois. We recommend our regular turkey hunters who are looking to do some upland hunting as well, to come in a day or two before there turkey hunt begins to experience a full day upland hunt. Another option available is to upland hunt after the morning turkey hunt. Call 217-734-2526 for more information on our upland/turkey combo hunts rates and dates.
To learn more about our regular season  Turkey Hunts Click Here>>
For more information on our Upland Hunting Packages Click Here>>
Last Updated: January 17th, 2023