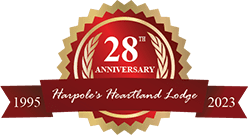 Whitetail Hunt Giveaway
Win a 5-night, 4-day November whitetail hunt for two hunters! A $5,000 value! To register all you have to do is enter your e-mail on the Whitetail Hunt Giveaway (Click link to enter email & giveaway) option, and that's it!!!
Heartland Lodge owns and leases thousands of acres of some of the best whitetail hunting properties in the Midwest. Heartland has a strict management program in place that allows for bucks to reach maturity and produces some incredible whitetails year after year. Check out why you should book your next whitetail hunt with Heartland Lodge here >>
Be sure to Like or Follow us on our Heartland Lodge Hunting Facebook Page or on our Heartland Lodge Instagram Page to stay up to date on our latest whitetail trail camera and scouting pictures! 
PICTURED ABOVE: A giant 176-inch buck one of our archery hunters harvested in October a few years aga! To see our Trophy Photo Gallery Click Here>> or to check out some of the big bucks we have on Trail Cameras Click Here>>
NOTE: We do have a few spots remaining for the Muzzleloader Only Season and Prime Archery Hunt Spots Available, check them out here >>
(Winner must have entered their email on the Whitetail Hunt Giveaway  (Click the link to enter email & Giveaway option)
WINNER WILL BE DRAWN July 31st, 2024- Announced Via E-mail
We giveaway free whitetail hunts every year! A hunter will be drawn on July 31st, 2024. The hunter will be drawn from only the names that are entered in the last year.
Sign Up for our Hunting Newsletter!
Be Sure To Sign Up For Our Newsletters To Receive Our Latest Whitetail/Waterfowl/Upland News & PROMOTIONS!
Everyone who signs up for one of our newsletters also receives a free e-mail series (one e-mail a week for a month) that contains the following information that is only available to those who sign up for our newsletters:
Whitetail – "Ten Secrets to Killing a Boone & Crockett Whitetail", "What it Takes To Hunt Trophy Whitetails" & "Choosing a Deer Outfitter".
Upland – "The Ten Secrets to Establishing a Native Bird Population", "The Ten Most Important Dog Training Steps", "Ten Myths about Birds" & "Choosing the Right Wing-Shooting Lodge".
Resort – "Secret Recipe for Our Famous Apple Pie", "Choosing the Right Resort/B&B", "How to Make an Ultra Comfy Bed".
*Tags, licensing, transportation and gratuity is not included
*This promotion is in no way sponsored, endorsed, administered or associated with Google or Facebook.* Hunt dates are November 29-December 2, 2024. Deer permit & hunting licenses not included.
Last Updated: August 23rd, 2023