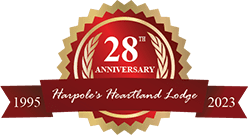 Two Chances at a 192″ Boone and Crockett Whitetail!!
Our good friend Ron Way from Arizona harvested this buck of a lifetime on the last morning of his hunt. This main frame 10 with a kicker off the left side scores 192″!! Ron and his guide Matt "Yankee" Brunet stayed focused on this bruiser knowing it was a Boone and Crockett whitetail. Ron missed this same whitetail two days earlier! Read the entire hunt in Ron's own words. Also make sure to watch the video below.
In Ron's Words:
"This would be my 3rd trip to Heartland Lodge and I've anticipated coming for the whole year as I have seen in the two previous times a B & C buck each year.  Never close enough for a shot but just seeing one was enough to get me to come back.  The first night at the lodge, meeting the guides, getting equipment ready for the morning hunt in anticipation I didn't get much sleep.
The first morning of the hunt I got on the stand and had several 120-130 bucks come within bow range but nothing big. I had two shooters in the 140 class but didn't get the opportunity for a shot.  I stayed in the stand all day." Read the rest of Ron's incredible story here >>>
Ron with guide Matt "Yankee" Brunet
Call 800-717-4868 for more information on our hunts. Or e-mail Gary@Heartlandlodge.com
Subscribe, Learn Top Secrets & Win!
You can learn the "Ten Secrets to Kill a Boone & Crockett Whitetail", "What it Takes to Hunt Trophy Whitetails", and "Choosing a Deer Outfitter" in a free 3-day email course. We will absolutely never give, sell or rent your name to any 3rd party, and of course you can unsubscribe at any time.
Just for signing up we will enter your name to win for a free whitetail hunt for the following season!
Last Updated: November 17th, 2011