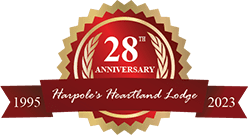 Ron Way's Monster Boone and Crockett Whitetail
This would be my 3rd trip to Heartland Lodge and I've anticipated coming for the whole year as I have seen in the two previous times a B & C buck each year. Never close enough for a shot but just seeing one was enough to get me to come back.  The first night at the lodge, meeting the guides, getting equipment ready for the morning hunt in anticipation I didn't get much sleep.
The first morning of the hunt I got on the stand and had several 120-130 bucks come within bow range but nothing big. I had two shooters in the 140 class but didn't get the opportunity for a shot.  I stayed in the stand all day.
On the second day, I went back to the same stand and had several bucks come by but no shooters and decided to come out of the stand and back to the lodge for lunch because it was so windy.  After lunch, I changed stands and saw more bucks but nothing that big.  The third morning my guide told me there is a big buck running around in these woods.  I went into the stand during the dark and when it started to lighten up I did some rattling.  After rattling, I got my bow back in my hand and here comes a monster buck running right underneath my stand at 14 yards.  I tried to grunt to stop him, but he had no intention of doing so.  I was already drawn back and had the pin about a foot in front of his briquette and punched the trigger but had no idea where the arrow went.  The buck ran about 50 yards and stopped, turned around a minute.  I thought, "what did I do, I screwed this up".  A lot of things go through your mind, like "what if…" That night, I went to bed thinking of that situation what I would do different.  Wondering what I'd do if there is a next time.
Next morning I went back in the same stand hoping to see this buck again.  My guide, Matt, was insistent that this buck was still in the woods and we need to get him.  The next morning, day number four, I go into the stand with anticipation of seeing this buck again although I know my odds are slim.  At first light, a small buck went underneath my stand but I was hoping the big buck will come by.  About 8 o'clock there was pandemonium behind me, this big buck was chasing a doe 70 yards out making all kinds of racket.  With this buck, was four other bucks trying to corral the does, crunching leaves, breaking branches – true pandemonium.  When I see the buck turn the doe and it runs to me I thought, "another opportunity" when the doe turns away with the big buck still chasing and I said, "there he goes, another lost opportunity".  He was standing on the hill and I could hear him snorting, growling, thinking "man, another missed opportunity".  I stayed in the stand all day and didn't see a single thing but a flock of turkeys before dark.  That at least got my heart racing as I heard something coming toward my stand.
On the fifth and final day of the hunt I went down for breakfast and told the other guys, "its the ninth inning and we got one out".  As I leave my guide Matt's truck,  Matt says you gotta get this big boy! I had confidence with Matt because he knew where this buck was and had good stands.  He was a great guide and great guy!  I got into my stand about 45 minutes before light, got all my equipment in the stand, my binoculars set up.  It was a perfect morning calm and no wind and a finally, chilly.  Sitting in the stand, watching a hint of glow coming over the hill always gives me time to meditate and thank God for all the blessings he's given to me.  Asking him for his protection for me and my family and that I have an opportunity at this buck one more time.  And if I do, it be a good shot with a quick and clean kill.
As I'm sitting in the stand the glow starts getting brighter and brighter and I can her the shotguns on the Mississippi blasting away at the ducks.  About 100 yards away I hear the crunching of leaves and snapping of twigs which goes on for 30 minutes.  I know there is deer down there and hoping they'll come up the ravine that I have my stand on.  After concentrating on the area finally a doe emerges and I say "oh, thank you".  About 20 seconds later here comes my big buck, I have another opportunity.  The doe was heading to my right which would provide me a poor shot opportunity but the big buck cut her off and pushed her over the drainage across from my stand.  I thought, "if he follows her I'll have a perfect opportunity."  He still continue to go to my right and I say oh please turn.  As if on command, turns to the right walking gingerly like each step was calculated.  He's now at 30 yards away and in the brush and I didn't have an opportunity for a shot.  Anticipating his path I could see a small opening where I could get a shot at about 30 yards.  As he started to approach the opening I started to draw my bow and he stops.  I'm standing motionless ready to draw the second he moves.  He moved forward like he was ready to take a step and I started to draw and he stopped.  He did this "head fake" two more times.  Trying to control my nerves to find out the next shot opportunity.  Then he walked  with a constant slow methodical walk broadside to me.  When he got behind the tree I drew back.   Since I'd been in the stand for a few days I knew my yardages by heart.  It was 25 yards.  As he turned towards me I put the pin tight on his shoulder, squeezed the trigger.  In a millisecond of the shot I saw a baseball size mark behind the shoulder I knew the RAGE had done its job and I knew the buck was mine.  He turned 180 degrees, ran 50 yards and stopped.  Stood for about 2 seconds, started staggering sideways and I heard a loud crash.  I immediately thanked God for allowing me to harvest this beautiful buck and that it was a quick and clean kill.
https://vimeo.com/video/32233304
I then text Matt – Matt I just shot a nice buck knowing this was the buck he wanted me to go after.  I didn't tell him it was the big boy.  He text back, how big was he?  I responded "he's at least 150."  I got out of my stand – I walked over and picked my arrow up and walked the red carpet to my prize.  He was even bigger close up than far away.  What a beast! He had fallen into a drainage and as Matt showed up he says well where is.  I watched his face as he popped over and saw him.  Mat was so excited that he hand was shaking and he could hardly take pictures.  These guides here at Heartland are as excited as the hunters being successful as he would have been if he shot the buck himself.  I'm already anticipating my hunt for next year and told Matt "he's got to do better next year"!!! What a great place, great people.  It's truly like coming home.   Ron Way
More on Ron Way's 192″ Whitetail
More videos & pics of successful hunters
Whitetail Deer Hunting Main Page                      Illinois Gun Hunts
Early Season Whitetail Hunting                           Hunting the Illinois Rut
Call 800-717-4868 for more information on our hunts. Or e-mail Gary@Heartlandlodge.com
Subscribe, Learn Top Secrets & Win!
Just for signing up we will enter your name to win for a free whitetail hunt for the following season!
Last Updated: November 17th, 2011