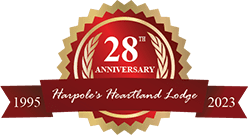 Habitat Improvement Projects Before the Spring Thaw
As we look ahead to the next season, most people grow anxious for the warmth of spring.  Although I share in this enthusiasm, I know that there is work to be done before the flowers start to bloom.  This is the optimum time of the year to make habitat improvements on your land or hunting property.  If you feel like you are stuck inside because of the cold, hopefully I can generate a few ideas that will get you outdoors before the spring thaw.
Timber Habitat Improvement Projects
One of the best habitat improvement projects that you can undertake to enhance your farm for wildlife,
timber production, resale value, aesthetics, etc. is to take on a timber stand improvement project or TSI for short.  You will see and hear a lot of information circulating on the internet and TV regarding TSI.  TSI has become a term for many people who just go in and cut down or hinge cut trees to create bedding cover for whitetails.  If this is the intent, then the term TSI is not an appropriate one.  Actual TSI projects must start with fundamental understanding of forestry and habitat.  Cutting a tree down to create a bed for deer takes no knowledge of the trees themselves.  If you don't have forestry knowledge you should consult someone who does.  Your local extension office will likely have a forester who can help you with a plan.
The topic is very complex, and each property will need to be handled differently.  Please do not rush out and buy a chainsaw.  Consult with a professional, organize a plan, and systematically implement that plan to achieve the best results. Hinge cutting a persimmon tree, felling a 50 ft. tall walnut tree, or removing some young white oak trees instead of a hickory tree are all potential failures if you don't know what you are doing.
Controlled Timber & Grassland Burns
My favorite late winter chore has always been controlled habitat burning.
I have initiated or participated in timber or grassland burns for over 25 years.  I don't get to participate as much as I used to, but I rarely turn down an opportunity to grab a torch, a flapper or a rake.
In my opinion the quickest way to improve habitat on your property for all species of flora and fauna is to have a controlled burn.  A well-designed burn in March has many benefits.  It controls invasive plant species, clears out matted grass to stimulate new growth, encourages native plant behavior, cleans up ground litter in the forest to expose acorns, encourages native forb growth in the forest, removes tall dead grass and shrubs, and attracts wildlife (especially turkeys).
Once again this is not an activity that you should undertake without the knowledge to do it safely and effectively. Different goals will require a different strategy.  So, think through the process before acting.  There are contractors that can be hired to do it for you or better yet, find a mentor to help show you the ropes.
Spring Food Plot Tune Up
The best way to give an existing clover plot a boost is to frost seed the plot.  This time of year, the ground will go through many freezing and thawing cycles causing the ground to flex, heave, crack, settle, and heal.  This process can help draw in seed that has found its way to the surface of the earth.  Animals will often dig at a clover plot in the winter to try and extract all of the edibles possible.  If they remove some of the plants and rhizomes completely you could be left with some big holes in your plot.  Without clover seeds ready to germinate, grass and weeds will quickly take over these holes.  The best part about this "frost seeding" process is that it is super easy.  Just buy the seed and use the broadcaster of your choice to put it on.  The addition of some P & K fertilizer is always a good idea for optimal production but will significantly up the cost of the project.
Create Wildlife Openings That Benefits All Wildlife
I absolutely love creating openings in woodlots for wildlife.  I created my first opening in an overgrown brushy timber area back in my early teenage years.  It amazed me how quickly the wildlife responded to the area.  They were attracted to the opening like a magnet.  In the 20 plus years since that first project I have incorporated openings into nearly every farm project that I have pursued.  My favorite place to create this type of habitat is where a wood lot meets up with a field edge.  This creates an edge habitat within an edge habitat.  The combination seems to magnify the attractive qualities of the area to wildlife.
Once the opening is created you can frost seed some clover, wildflowers, native grasses, etc. into the opening and you will have a great place to hunt, attract, and feed wild game.
All of the projects listed above are best completed in the late winter early spring months.  The plants are mostly dormant and will bounce back easily during spring bloom.  Completing the project during this time frame also allows your hunting property time to settle down and gives the animals an opportunity to adjust to the surroundings.
If completed properly these improvements will add value to your property, increase the wildlife usage of your land, improve your hunting, and build a better relationship with your land.  If that isn't reason enough, getting out of your boring winter-time routine should be.  Have Fun!
Corey J. Wilkinson
Last Updated: January 28th, 2022