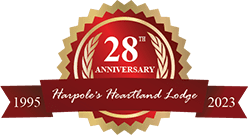 Don't Let the Boys Have All the Fun – 10 Ways for Ladies to Love Harpole's Heartland Lodge
A couple of years ago I saw a Facebook ad pointing me to Harpole's Heartland Lodge.  I asked my Central Illinois friends if they had ever visited the lodge, and none had.  But several of their husbands and significant others had…and apparently, they had a wonderful time.  So many had great stories about hunting, ATV-ing and the amazing meals.  They loved every minute of their visit.  This got me thinking…Why should the boys have all of fun?  Harpole's Heartland Lodge has plenty of great amenities, activities, and options for everyone.  So, I started telling my friends about the lodge…and eventually attended the Girls Weekend Getaway with them.  From start to finish, the entire experience was a blast.
Girls' Weekend Getaways in Illinois!
The Heartland Lodge offers special Girls Getaway Weekends throughout the year.  They are a wonderful opportunity to spend quality time with friends and really enjoy activities from wine tasting to cake decorating.  Ladies from all over the Midwest book rooms to share with their sisters, moms, coworkers, and friends.  I attended two of the getaways last summer and had the opportunity to meet with some fantastically fun ladies.  These getaway weekends are a real treat and, if you get the chance to book one, I highly recommend them.  There is an energy and enthusiasm at the lodge that is truly intoxicating.  But we all know some weekends just don't fit into our busy schedules.  Maybe you can't make it to the girls' weekend, or you just don't want to wait for the next scheduled event.  Well, the good news is that Harpole's Heartland Loge is a great destination for an impromptu escape with some of your best friends all year round!
My favorite thing about the lodge is that no matter what type of trip you are looking for…you'll be blown away by what Harpole's has to offer.  My friends and I arrived at the lodge on a dreary, rainy day.  The ground was soaking wet and there was a little chill in the air…but we wanted an adventure!  And we found one!  The miles of trails provided the perfect backdrop for exploration!  We weren't alone either.  Women were ATV-ing, mushroom hunting, picking wildflowers, and taking a target practice course!  Inside, there was a group watching a movie in the recreation room, a mom and her daughters enjoying conversation by the fire in the great room, and two friends bird watching in the yard.  No matter if you are looking to make some memories in the great outdoors or cozy up with a glass of wine and some board games, you and your gal pals will love the lodge.
I have been lucky enough to be a guest at Harpole's quite a few times now and I can't wait to return!  If you and your friends are looking to get away and enjoy some time with just the girls, check out this list of the top ten amazing ways to enjoy your ladies' weekend.  Now, this list is by no means all-inclusive…there are countless ways to make the most of your time at Harpole' Heartland Lodge, but I thought it might be fun to make a list of my favorite activities.
10 Fun Things to do at the Lodge!
10)  Bird Watching – You don't need to grab some binoculars and trek out into the wilderness to see some beautiful birds.  I mean, you can if you want to.  Or you and your friends can sit on the porch in a comfy rocking chair with a cup of coffee or glass of wine and watch blue birds, robins, chickadees, and purple finches.  You may also get a visit from our friendly lodge cat, Smokey, who likes to greet new guests!
9)  Beautify – I love taking some time out to refresh and beautify.  On the way to the lodge, I like to stop off and grab a few at-home face masks and some nail polish.  After a full day of activity, I settle in and relax with my pals as we do each other's nails and unwind.
8)  Play some games – In our busy hustle and bustle, I rarely slow down enough to play a board game.  But that's part of what's so great about Harpole's Heartland Lodge.  You can slow down, relax, and unplug.  My friends and I always prepare for a getaway with a box full of games.  You will love the opportunity to hang out in the recreation room or your beautiful suite and share some laughs.
7)  Dance Party – Ok, so this wasn't actually my idea.  I was walking into the recreation room one night after enjoying some s'mores and there was a group of ladies having their own impromptu dance party!  They had an iPod, some speakers, and some awesome moves.
6)  Bon fire and swapping stories – A trip to the lodge would not be complete without an evening bon fire.  After the hayride, guests gather in back of the lodge to enjoy the fire, make some s'mores, and share some good stories.  I so loved the opportunity to make some friends by the fire and spent a couple of hours just relaxing and chatting in the cool night air.
5)  ATV Adventure – Want to try something truly exciting?  Why not give ATV-ing a try?  Last spring, I went for an ATV ride, and it was absolutely fantastic.  The lodge trails offer something for every rider.  As a beginner, I stuck to the easier options.  But I noticed plenty of riders who were true adventurers trying their hands at the tougher stuff.
4)  Wildflowers, Mushrooms, and Blackberries – It seems like there is always something growing at Harpole's Lodge, and as a guest you are free to explore the property and find whatever treasures you'd like.  When I visited in the spring, a few brave ladies went mushroom hunting and came back with bags full of morel mushrooms.
3)  Crazy Comfy Beds – It wouldn't be right not to mention just how wonderful the beds are at Harpole's Heartland Lodge.  You will get your very best night sleep on the lodge's triple-sheeted, super-comfy beds.
2)  Hayride Fun – A hayride through the rolling hills and scenic views of East-Central Illinois is a quintessential part of any trip to Harpole's Heartland Lodge.  You'll see deer, elk, and wild turkey while you take in the majestic sunset.  Come rain or shine, my friends are always sure to take in the hayride experience before settling in for the night.
1) An AMAZING Meal – Harpole's meals are truly second to none.  A few minutes before the dinner bell rings, you will smell the aroma of fresh baked bread wafting through the lodge.  Meals are served family style and offer you the opportunity to make new friends while conversing with your travel-mates.  Every time I have dinner at the lodge, I think I am too stuffed for one more bite.  Then, they bring out dessert and I have to reconsider!  Brunch is just as delicious with eggs, pancakes, sausage, bacon, fruit, and SO much more.  If you consider yourself a foodie, or just love a home cooked meal, you'll love Harpole's Lodge.
Nicole
View our full list of activities here >>
Last Updated: January 18th, 2022