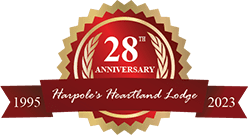 Meetings & Groups Q&A
Where are you located?
We are located in Pike County, Illinois. Scenic Pike County is in West Central Illinois in-between the Mississippi and Illinois Rivers. We are 80 miles northeast of St. Louis, MO, 78 miles southwest of Springfield, IL; 50 miles southeast of Quincy, IL and about 4 1/2 hours from Chicago. For a map or driving directions, please visit our Directions Page. (We do not have any other locations.)
What types of companies/organizations use the lodge?
We have hosted the CEO and board of directors for some of the largest fortune 500 companies in the world. We also have many churches, nonprofit organizations along with small businesses use the lodge. No company is too small or too large to take advantage of staying here. Our flexibility is what makes our property so unique. We have over 300 companies and organizations that are a part of our extended family and host conferences, meetings and retreats at the resort.
How many people can your resort accommodate?
We host many groups that are small (2-10 guests) and we have hosted events as large as 600 guests. If your group requires overnight accommodations, the number of people depends on the occupancy of each room. We have 31 rooms with a total of 47 beds. The Original Lodge has 26 beds in 13 rooms. The Prairie Ridge Lodge has 7 Luxury Suites, each with a king-size bed in addition to a daybed. The daybed can be made out into two twin beds or a second king-size bed if needed and is not included in the 47 bed count. These suites can accommodate 2-4 guests. Sunset Valley Lodge has 9 beds in 7 rooms and suites. Heavenly View Cabin has 5 beds in 4 rooms. We can cater to almost any size or group. Our flexibility is what makes us stand apart from other resorts. Reserving one or all the lodges exclusively for your group is what makes us a unique venue for your next meeting and retreat.
Can your lodge(s) be privately booked?
Yes, reserving one of our lodges or cabin is a great way to bond with your group. If you book 10 rooms or more, you can have the entire Original Lodge to yourself. If you book 7 rooms in the Prairie Ridge Lodge, you can have this lodge private. Sunset Valley Lodge requires all 7 rooms to have it private and Heavenly View Cabin can be private with just one of the four rooms. Buyouts allow you to break out into other areas of the lodge to hold meetings. Lodge buyouts are very popular with our guests.
What are the activities that we can enjoy?
We offer many team building activities for you to enjoy. They include horseback riding, sporting clays, fishing, hunting, ATV riding, pistol range, volleyball, croquet, hayrides, bonfires, hiking, bike riding, paintball, horseshoes and over 1,200 acres of trails, ponds and unmatched scenic beauty. As if all that wasn't enough, there are many other local attractions to enjoy.

Your imagination is the only limitation to what we can offer for team building activities at Heartland Lodge.
Do you have Wi-Fi?
Yes, we have wireless internet at all our lodges and cabins. In our main conference room and at Prairie Ridge Lodge, we have two independent connections for maximum speed. One is through our high speed wireless system and the other is through a satellite.
How large is your conference room?
Our board room will accommodate 16 people and our conference facility will hold up to 100 people. When the there is a lodge buyout, many of our guests also use the recreation room in their lodge to host meetings.
Can we use the conference room before and after check-out?
Yes, please reserve the conference room in advance for the times you need.
Do you have an LED projector and other conference amenities?
Yes, we have an LED projector (no charge for use). We also have copy machines, a telephone for conference calls, easels, projectors, white boards, markers and fax machines available. Please let us know if there is something else you may need for your meeting.
Do you provide snacks?
Yes, your chefs will be happy to prepare delicious snacks for your meetings.
Can we add additional meals?
Yes, you can add dinner, breakfast and lunch. Snacks for your conference can be added as well.
What is the closest airport?
Most commercial flights fly into Lambert – St. Louis International Airport in St Louis, Missouri, providing a central destination when traveling from coast to coast. We are located only 80 miles north of the St Louis airport and the scenic drive along the Mississippi River is a beautiful experience. We recommend traveling the Illinois way and if time allows, stopping in Grafton, Illinois along with Scenic Calhoun County.

For private planes, Pittsfield Penstone Municipal Airport is the closest airport (15 miles), while Quincy Regional Airport can accommodate larger jets (55 miles).

Do you have a helicopter landing?
Helicopters can land in the lawn right next to the lodge. A nice long, mowed area provides a convenient location for helicopters to land. If you are going to arrive via helicopter, we ask that you give us advance notice of your arrival.

Our GPS Coordinates:
DMS: +39 24′ 20.94?N, -90 47′ 23.46?W
DM: 39.405817 N, -90.78985 W
Do you provide airport pickup?
We work with local transportation services to arrange pick up and drop off at the airport.
What is the closest town?
Nebo is the closest town at 2 miles away. Pleasant Hill is 7 miles and Pittsfield is 12 miles. Pittsfield is the county seat and is the largest town in the county.
Where is the nearest hospital?
Illini Community Hospital in Pittsfield, IL is the nearest hospital. Illini Hospital is approximately 20 miles from Heartland Lodge.
Our nonprofit organization has a limited budget. Can you work with us?
Yes, we most certainly can. We have many nonprofit groups that use the lodge every year and have several creative ways that can help save your group money. For example, our non-meal rate is one option. If you book the Original Lodge or Sunset Valley Lodge, you will have access to a fully-equipped kitchen. All you need to bring is your food, drinks and condiments. There is also a BBQ grill available for your use. You can even bring your own hotdogs and have a cookout around the bonfire! You will not find a better facility at a lower price. We want to host your next retreat and will work with you so your group enjoy the Heartland experience.