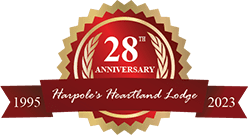 Pheasant Hunting Resorts
Resorts for Hunting Pheasants
At Heartland Lodge we are a specialized pheasant hunting resort that is known to be one of the nation's premier pheasant hunting destinations. Heartland Lodge is the only Orvis endorsed pheasant hunting resort in Illinois and provides 5-star lodging, home-cooked meals and exceptionally trained pheasant hunting bird dogs. At our hunting resort, we manage our pheasant hunting properties to give the hunter the best pheasant hunting experience. We cut strips through the native prairie grasses and food plots for easier access and walking throughout our gently rolling farms that are perfect for pheasant habitat. We plant several acres of corn and milo to help support our wild population of pheasants and enables us to create a better overall pheasant hunting experience.
Heartland's Pheasant Resort Accommodations
Besides holding some of the greatest pheasant hunting in the nation, Heartland's resort is widely known for its 5-star accommodations. Our luxury suites have a California King sized bed with Whirlpool and fireplace. Non-hunting guest are welcome to stay, many pheasant hunters bring partners who choose just to relax in front of the fire. After a long day in the pheasant fields, our chef will prepare a homemade, country-style cooked meal that will be sure to satisfy your hunger! We famously prepare an overabundance of food to make sure everyone has more than enough to eat (no one leaves hungry from Heartland Lodge).
History of Pheasant Hunting at Heartland's Resort
Heartland Lodge is located close to the place where pheasants were first introduced into the state of Illinois. In 1992, before the Lodge was built, Heartland's owner, Gary Harpole, started working with the IDNR to liberate pheasants into the wild in the fields around where the Lodge is currently located. In 1995 Gary initiated an intense habitat improvement program. Working closely with biologists from the IDNR, Heartland converted its CRP fields from fescue to native prairie grasses, providing better cover for all pheasant and other wildlife. With the introduction of more and better food plots, pheasants have thrived in the areas surrounding Heartland Lodge ever since.
Spring is filled with the cackling of rooster pheasants looking to mate. Clutches of baby pheasants can be seen throughout the spring and summer months.  Mature wild pheasants are often seen along the roadsides during the summer and fall months.
The Pheasant Hunting Tradition at Heartland Lodge
Heartland's owner, Gary Harpole, hunted pheasants in the fields that surround Heartland Lodge long before the lodges were built. These farms were full of overgrown fence rows, native grasses and grain fields. The traditional pheasant hunt began with Gary and his favorite dog Bo, walking out his back door to the pheasant fields.  Pheasant hunting began at daybreak and continued until dark, walking along fence rows, watching Bo lock up and anticipating the wild rooster flush. Many fond hunting memories were made this way, created with family and friends, and passed down to future generations of pheasant hunters.
These same traditions continue on at Heartland Lodge. The Lodge Farm is still one of the favorites of our pheasant hunters. This farm and the other properties we hunt still have the old fence rows, native grasses, and a mixture of food plots and grain fields. This prime habitat ensures that pheasants are scattered across all of our properties.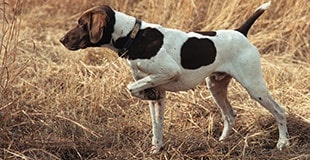 Come step back in time with us and continue the tradition of pheasant hunting that started here many years ago. We invite you to share and create your own memories along with starting a new tradition of pheasant hunting with friends and family at Heartland Lodge.
Sign up for our pheasant hunting emails to be the FIRST to receive latest hunting tips, dates and discounted hunts!
Main Upland Page>>
Quail Hunting>>
Upland/Waterfowl Combo Hunts>>
Waterfowl Hunts>>
Pheasant Hunting Pictures>>
Last Updated: September 23rd, 2022