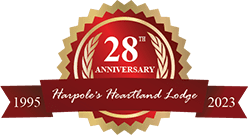 Decoying a Giant Whitetail With Bow- Video & Story
It was day 5, and after a long week of bowhunting hard, Dennis and I were making our long, uphill trek to a secluded beanfield where Dennis had already made three long sits without any sightings of the buck he was after. A mature, main frame eight point nicknamed "Hank".
Hank was consistently popping up on trail cameras during daylight hours just a few days before Dennis's arrival but hadn't been seen while on stand in the past 3 days. The buck had me and Dennis wondering if we had pressured him to much or he had just simply moved off the property searching for does.
Hank was working a ridgetop scrape line on the edge of the soybean field as he traveled from one hardwood draw to another. With rain in the forecast, the farmers harvested the soybean field on day four of Dennis's hunt. With fresh cut soybeans and a light drizzling rain, the stage was set for Hank to make his appearance. I brought a climber and a buck decoy along so that I could experience first-hand how the hunt would unfold. However, this story begins three years prior…
A Weekend Getaway Sparked a Whitetail Hunter's Flame!
Dennis and Ashley had made a reservation at the end of June for a weekend getaway at the lodge. After supper and a hayride, Dennis and Ashley took a little cruise with me on my daily summer scouting routine. Late-June through July are some of the best times to get a look at velvet bucks feeding on tender soybeans and lush alfalfa. I specifically remember that night, because we had seen more mature bucks and deer in general, than I ever had while driving around that year. It was like every deer in Pike County came out to feed on the soybeans that evening. It sparked Dennis and Ashley's interest in coming back in the fall for a whitetail hunt.
Fast forward a couple years and a few trips and Dennis couldn't quite seal the deal on a good buck. He had some great hunts and passed on a few bucks but the big one he was waiting on seemed to evade him. But this year, the stars were starting to align in Dennis's favor..
Fresh Picked Field After a Cold Front= Deer Hunter's Dream October Hunt
The high-pressure cold front was moving through, and the drizzling rain was tapering off. The humidity was high, cloud cover low, and the temperatures were steadily dropping into the low 40's with a slight North-West wind. Pretty much everything a bowhunter wishes for in late October whitetail hunt. I've always noticed an uptick in deer feeding in soybeans after or during a rain and on this hunt, the deer started feeding early.
Hank the Tank!
Not long after getting settled into our stands, deer started blowing directly to our North a couple hundred yards. The same draw that Hank had been consistently bedding in. I feared a deer had been bedded on the edge of the field and watched me set up the decoy or get situated in the climber stand. But just a few minutes later, a bobcat came out of the draw and headed out of harm's way. About 30 minutes later, a family group of does came out and started feeding in the cut beans to the West of our stand. I was occupied watching the does when I heard some thrashing in the timber behind our stand. I could see the top of a small sapling shaking back and forth vigorously about 50 yards away in the thick hardwoods understory that had just recently been logged. I glassed the base of the tree with my bino's and could just barely make out the outline of a buck rubbing the tree.
I caught a glimpse of the buck's left side and recognized that it was one of the nice ten pointers I had on trail camera. I watched him through binoculars for a minute and finally realized that there was a doe bedded down just a few yards in front of him. He walked up to her and bumped her out of her bed, sniffed where she was laying and slowly started working his way towards the field edge. I thought for sure we were going to get a shot at this buck, but he never did walk into the field and disappeared into the thick understory in the ridge below our stands.
Deer Hunting with a Buck Decoy Video
About 20 minutes later, I heard a grunt come from the North, the same direction where the bobcat had popped out of the draw earlier. I assumed it was the big ten from earlier. Dennis made a few soft grunts towards that direction and a few minutes later I could see a big body working around the field edge. I immediately grabbed for my phone and started videoing. When he walked out in the open, I could tell it was Hank. He was fixated on the decoy and was circling right into our laps!  Watch the video to see how the rest of the hunt plays out >>
As you can tell from the video, the arrow hit just in front of the back leg.. Dennis was visibly disappointed after the shot as any bowhunter would be.
I was able to get my binoculars on the buck as he stopped about 60 yards away in the hardwoods. He was bleeding bad and acted like he wanted to lay down. I watched closely as he slowly walked off over the hillside where I lost sight of him. The last time I seen him I could see intestines hanging out of him, nearly dragging the ground. We waited until dark before we packed out and cautiously made our way back to the truck. After a sleepless night, for Dennis and myself, we ended up finding him in his bed less than 60 yards from where I had seen him last.
The buck ended up scoring 165″ and weighing in at 260 pounds!
-Zach Jumps
Zach@HeartlandLodge.com
Hunting October Whitetails at Heartland Lodge>>
Hunting the Whitetail Rut at Heartland Lodge>>
Last Updated: October 19th, 2022