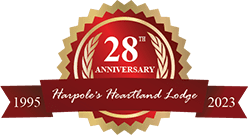 All-Inclusive Pheasant Hunting Trip
Heartland Lodge offers the best all-inclusive pheasant hunting vacation packages available throughout the Midwest. We offer guided pheasant hunts that includes everything a hunter needs to make a great upland hunting trip. Our pheasant hunting vacation packages include all the meals, 5-star lodging, guides, dogs and transportation to and from the field. Coming to Heartland Lodge for a pheasant hunting vacation is a great way to relax and spend time with family and friends and continues to be a tradition for many of our hunters we have return each upland season.
Sign up to win a FREE Pheasant HUNT for Two Hunters!!
A Pheasant Hunter's Dream Vacation Package
Heartland's all-inclusive packages are the perfect pheasant hunter's vacation. We manage thousands of acres of some of the highest quality pheasant hunting ground throughout the Midwest.
Many pheasant hunters plan upland hunting vacations every year. What makes a trip to Heartland Lodge different than going to other vacation destinations? We take care of everything from guides, dogs, cooking amazing home-cooked meals, and processing your game for the trip back home!
If you are looking for a premier pheasant hunting lodge with luxury suites and cabins, gourmet meals, some of the best bird dogs and guides in the country, consider Harpole's Heartland Lodge for your next Pheasant Hunting Destination! An Orvis and Shooting Sportsman Endorsed Wingshooting Lodge! Over the years, we have had many pheasant hunting groups switch from South Dakota to Illinois after they experienced everything that makes Heartland Lodge a one-of-kind pheasant hunting destination. Experience it for yourself this fall or winter!
Pheasant Hunting Conditions
Our guided pheasant hunts are made up of 2-4 bird hunters. We hunt in native prairie grasses, milo, and cornfields. Most of our hunting is done by walking behind pointing dogs just like many of did as kids growing up. Breaks are taken during the hunt to water dogs and give the hunters a rest. Please let us know the pace you enjoy pheasant hunting when you reserve your hunt. We have fast and slow working dogs. Our all-inclusive guided pheasant hunts are designed to accommodate your style of wingshooting.
Pheasant Hunting Trip Reviews >>
---
UPLAND BIRD HUNTING TRIP PACKAGES
Four-Night, Three-Day Upland Bird Hunting Package – Arrive the day before your hunt between 3:00 p.m. – 5:00 p.m. Hunt for three days and depart after breakfast on the fifth day.
Three-Night, Two-Day Upland Bird Hunting Package – Arrive the day before your hunt between 3:00 p.m. – 5:00 p.m. Hunt for two days and depart after breakfast on the fourth day.
Daily upland bird hunting packages can be arranged. For fall hunts please tell us if you have a preference on quail hunting, pheasant hunting or both.
The customer surveys for last year's season for our Upland operation had a 98.24% customer approval rating. This was based on hunting, accommodations, meals, and services.
View our Pheasant Hunting Rates Here >>
MISCELLANEOUS INFORMATION
Traditional Hunts (Fall Only – Limits on Pheasant, Woodcock & Wild Quail Hunting)
Pheasant hunting is limited to 4 cock pheasant. You may harvest up to 8 on wild quail hunts. Woodcock can be taken during open season dates only.
Premium Hunts (Liberated Hunts)
No-limit liberated upland bird hunts are available. (Double Premium Hunts Now Available)
Gun Rentals Available
We have shotguns available. Please call-in advance if you would like to rent a gun (217-734-2526). Renting one of our shotguns is much easier than taking one through an airline!
Species Hunted
Fall (Sept – Dec) – Focus on Pheasant and Quail
Winter (Jan – Mar) – Focus on Pheasant and Chukar
Rooms
All of our hunts are booked double occupancy. Private rooms and luxury suites are available for an additional charge. Please view our virtual tours of the Original Lodge, New Lodge and Rooms to get a better idea of our accommodations.
Size of Groups
We limit our upland hunters to 14 per day. Larger groups are welcome and can be arranged on a private basis.
Memberships
We have memberships for individuals, families, and businesses. Learn more about becoming a member of our hunt club here.
Shells
We have shells available for sale at the lodge for 28, 20 and 12 gauges.
Open All Year
Come to Heartland for a get-away. This will give you the opportunity to check out the Lodge prior to booking a hunting trip. We are open all year. Being open all year allows us to employ full time staff year-round.
---
More information on our guided pheasant hunting trips/ vacations >>
Ready to book your next All-Inclusive Pheasant Hunt? Give us a call at 217-734-2526 or E-mail Gary@HeartlandLodge.com for more details.
Last Updated: March 7th, 2023