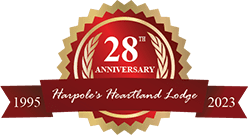 All Inclusive Deer Hunting Vacation Packages

Heartland Lodge offers the best all-inclusive deer hunting vacation packages available throughout the Midwest. We offer 100% free range deer hunts that includes everything a hunter needs to make a great deer hunting trip. Our deer hunting vacation packages include all the meals, 5-star lodging, and transportation to and from the hunter's stand. Coming to Heartland Lodge for a deer hunting vacation is a great way to relax and spend time with family and friends and continues to be a tradition for several of our hunters we have return each deer season.
**Interested in an all-inclusive deer hunting vacation? Give me a call at 217-982-4039 or E-mail Zach@HeartlandLodge.com for more information today! Prime spots sell out quickly!!**
Sign up to win a FREE All-Inclusive WHITETAIL HUNT for Two Hunters!! Sign Up Now Here >>
A Deer Hunter's Dream Vacation Package
What more would a diehard deer hunter enjoy than a deer hunting trip to Pike County Illinois chasing giant whitetails!? Heartlands all-inclusive packages are the perfect deer hunter's vacation. We manage over 5,000 acres of some of the highest quality deer hunting ground throughout the Midwest. Located in between the Mississippi and Illinois Rivers, Heartland Lodge manages for a healthy herd and has a strict 140″minimum on all whitetail bucks. Our properties consistently produce giant whitetails year after year. How? Because we have the genetics, food, and cover that mature deer need to grow into their full potential.
Check out our latest TRAIL CAMERA PICTURES,  DEER HARVEST PICTURES, or go to our HUNTING RATES page for pricing on hunts that are still available!
Deer Hunting Vacation Trip Checklist
Thousands of whitetail hunters plan deer hunting vacations every year. What makes a trip to Heartland Lodge different than going to other vacation destinations? We take care of everything from food plots, monitoring trail cameras, hanging treestands, cooking amazing home-cooked meals, and processing your deer for the trip back home! Here's a small checklist of items you should bring along on your all-inclusive deer hunting vacation>>
Your bow or gun
Bow release/broadheads/arrows/quiver
Rain gear
Knee high rubber boots (Recommended)
Orange hat and vest (Gun only)
Bow or gun case *required in Illinois when in vehicle
Rattling antlers
Grunt tube
Pull up rope
Safety belts are required
Binoculars
Flashlight
Hand warmers
Camera
Cooler
Slippers or heavy socks (Shoes are removed in mud room at lodge)
Range finder
Tags/license
Phone charger
Contact lenses/glasses
Scent away spray
Thermacell
Scent free deodorant
Hunting the Illinois rut>>
Don't pick the wrong outfitter>>
Illinois firearm trips>>
Illinois archery trips>>
For more information on booking an all-inclusive whitetail hunt, please give me a call at 217-982-4039 or E-Mail Zach@HeartlandLodge.com today!
Last Updated: August 31st, 2023