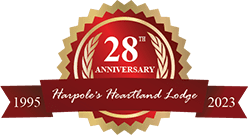 About Heartland Lodge
We want to personally invite you to experience the beauty and wonder of God's country in Pike County, Illinois, a place where memories and traditions last a lifetime!
While staying in our fully accommodated lodge in the rolling hills of this remote county, you will walk where our family's heritage of over 100 years, has its roots. We have always had the desire and longing for the relaxation and peacefulness found in the country. We were fortunate to have grandparents who lived on the farm where the 100-year tradition began.
We clearly remember going to Grandma's house, and knowing when we walked through her door, the countertops in the kitchen would be full of every imaginable homemade dish. Everything from fried chicken, homemade noodles, breads, and desserts, to ice cream we made under the old shade tree. Wonderful memories were created with family and friends on this farm.
Based upon these principles, we have built Harpole's Heartland Lodge so you may also share the serenity and tranquility found on top of this ridge. As you wind through the valleys and climb the hills to reach the top of what the locals call "P Ridge", you will view the beauty of nature that draws you back time and time again to the land that has been untouched by modern day society and technological advancement.
A stay in our lodge will bring back old and create new memories for you. Memories are made for the hunter who harvested his first deer or turkey, the father and son who enjoyed an upland bird hunt together, the couple who exchanged wedding vows or celebrated their anniversary, the family reunion, the weekend get-away, the first horseback ride, and the team building created at the company retreat. From the time you step through the front door and smell the aroma of home cooking, until you lay on our freshly made country beds with feather pillows, you will know that you are someplace very rare, someplace found only in the country.
These traditions that we've shared with family and friends for over 100 years are now being shared with you, our guest. Each time you visit our lodge we will help you create memories that you will cherish forever.
Gary Harpole II & Miss Wanda