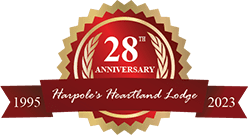 Yoga/ Silent Retreat Vacation Locations
Heartland Lodge offers the perfect Yoga enthusiast Destination! Surrounded by thousands of acres of pristine wilderness teaming with songbirds and other wildlife, Heartland Lodge offers a picturesque setting for your next yoga class retreat or a "silent" getaway escape.
Heartland Lodge offers luxury lodging options for yoga groups of all sizes! Experience the local culture and enjoy an array of relaxing activities located at the resort! Unwind on a horseback trail ride through the gently rolling meadows and woodlands on the lodge, go for a nature hike on over 1,200 acres with several miles of trails, put your feet up around one of the many bonfire pits, rent a UTV and explore our scenic OHV park, take a sunset river tour cruise on the mighty Mississippi River or any array of activities we have to offer! Activity List Here >>
In total, Heartland offers 4 lodges and 5 cabins for up to 90 guests! Whether you are looking to bring your entire yoga class or a select few, Heartland Lodge is your perfect yoga escape getaway! Below are a few of our recommended lodging options for yoga enthusiast. If you have any questions, please give our office a call at 217-734-2526 for more questions on a yoga escape!
---
Yoga/Silent Retreat Cabin Highlight- The Heavenly View Cabin (4-10 guest)
If you would like to completely immerse yourself in the forest with your small-medium sized yoga group (4-10 guest) or a solo-silent retreat escape, this is the cabin for you! Heavenly View is a 4,800 sq. ft. luxury cabin with views that are absolutely breathtaking! Nestled near the top of the Mississippi River bluff, this cabin provides amazing views of the Mississippi River valley and the surrounding property.
The front yard of this cabin offers the perfect location for your yoga layout. With astonishing views overlooking the historic barn and native meadow below where wildlife of all sorts frequent. Deer, turkey, owls, songbirds are all frequent visitors of the pristine forestland that surrounds the Heavenly View cabin. After a relaxing yoga session, enjoy a cup of coffee or tea in the screened in porch while taking in all the sights and sounds of nature.
At the end of the day, savor the sunset and its beautiful colors across the Missouri hills. Sit back and enjoy the seclusion and privacy while relaxing in true luxury in Heavenly View.
For more information on the Heavenly View Cabin, Click Here >>
---
Yoga Lodge Highlight- Sunset Valley Lodge (7-14 guest)

The name of this lodge says it all. The view from the expansive rear deck as the sun sets over the horizon of the Illinois and Missouri hills is simply breathtaking. The back deck offers the perfect yoga layout for a large group to enjoy. This 10,180 square foot luxury cabin getaway features seven suites and rooms. Once inside, you will NOT want to leave! Experience our gourmet, made from scratch meal plans while staying at this lodge as well!
For more information on the Sunset Valley Lodge, Click Here>>
---
We have several more lodging options available here for your yoga retreat >>
Full list of activities and amenities at the lodge >>
Questions? Give us a call at 217-734-2526 or E-mail Office@HeartlandLodge.com today!
Last Updated: March 31st, 2023