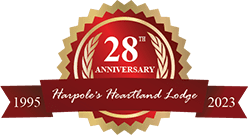 Illinois Bowhunting Outfitters
Bowhunting Illinois Outfitters – Pike County, IL
Heartland Lodge is a specialized bowhunting outfitter located in Pike County, Illinois. We take bowhunting very seriously at the lodge. All of our guides are accomplished bowhunters and know how to put you in a position to have a great bowhunting experience.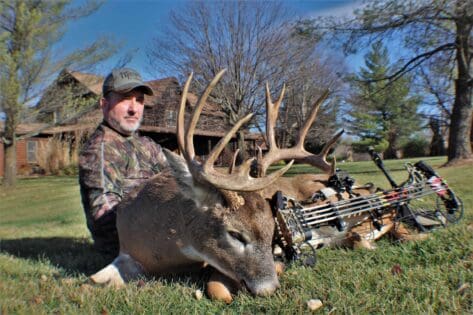 Bowhunting without a doubt is an art, and at Heartland Lodge Outfitters we've perfected the art. Being a successful bowhunting outfitter is a full-time job. Literally. That's why we have two full-time whitetail managers and other supporting staff that are constantly preparing and scouting for the upcoming season to make sure that you, the hunter, have a 5-star bow hunting experience.
Our annual whitetail scouting program includes running trail cameras on a year-round basis. In the spring we shed hunt and conduct a thorough trail camera analysis of the bucks that made it through the season and up and comers for next fall. By mid-summer we pick them back up through trail camera or by spending several hours a week glassing velvet whitetails to see how many inches they've packed on since last season. We adjust and hang new sets in late summer and throughout the deer season accordingly. We really dial in our scouting efforts the last few weeks of September and continue throughout the rest of the season to home in on our particular bucks we've been keeping tabs on since early spring. These are just a few reasons we are considered to be the #1 destination for those passionate archers looking to find an Illinois bowhunting outfitter. We work hard to give our hunters the best shot at harvesting a quality, mature whitetail.
Bowhunting in Pike County Illinois with an Outfitter
Bowhunting whitetails with an outfitter is all about choosing a whitetail outfitter who pays attention to the fine details. To get a mature whitetail within bow range, a lot of variables have to come together. We focus on all the aspects of the hunt that we can control. Here are just a few things that we, as a bowhunting outfitter, can control to make it the best bowhunting experience in Pike County, Illinois and throughout the Midwest.
The proper stand placement with the prevailing winds- you have to have the right wind to consistently harvest mature whitetails.
The position of the stand itself in regard to cover and height.
Food plot preparation and a food plot layout specifically designed for bowhunters not long-range rifle hunters.
Cutting proper shooting lanes- We like to cut shooting lanes so our hunters can get a shot in several directions.
Easy and quiet entry access to stands- Keeping entry and exit routes maintained and clean helps to reduce scent and noise.
Making sure the stands themselves are quiet and comfortable- Nothing's worse than pulling back on a deer and having a squeaky stand spook him to the next county.
Multiple stand locations on a farm and specific set stands for individual bucks we've been tracking.
What Makes Heartland Lodge Different Than Other Outfitters in Illinois??
Long-Term Deer Management – Most of our whitetail properties have been under our strict management for 10+ years. Some for 20+ years!
No Smoke-&-Mirrors Marketing – All of our trail camera pictures, and trophy pictures are from our hunters and our properties. Many outfitters post photos of friends' and families' deer, along with trail cam photos on properties you will never be hunting.
Our Guides DO NOT Hunt the Properties – Many outfitters allow their guides to hunt the same stands and farms as the hunters decreasing your opportunities.
Personal Service – We like to develop long-term friendships with all of our hunters. You will see the owner every day at the lodge. Low pressure and low volume hunting on our properties keeps those mature whitetails from going nocturnal. Many outfitters run a high-volume operation and you are just a number to them. We want you to be just as excited to return to Heartland as when you first arrived.
Hunting Tradition – Your stay with us is more than a deer hunt. It's part of a strong hunting tradition that started back when Heartland's owner, Gary Harpole, was a child. Each year new traditions are being created by our guests. It's our hope that you create your own memories at Heartland with your family or friends and carry on a tradition that started many years ago.
---
2023 Archery Dates Available:
More on our Archery Hunts>>
October 1st–5th (Opening Week - 5 Days of Hunting) Click Here For More Info.
SOLD OUT!
October 9th-12th (4 Days of Hunting)
$2,650 (1 spot remaining!)
October 14th-16th ( 3 Days of Hunting)
$2,150 (2 spots remaining!)
October 18th–20th, (3 Days of Hunting)
SOLD OUT!
October 23rd-27th, (5 Days of Hunting) Click Here For More Info.
$4,150 (2 spots remaining!)
October 29th-November 2nd (5 Days Hunting)
$5,250 (1 spot remaining)
November 4th-9th (7 Nights, 6 Days Hunting)
$5,750 (3 spots remaining)
November 11th-15th (5 Days Hunting) Click Here For More Info.
$5,500 (2 spots remaining! Peak Rut!)
November 24th- 28th (5 days of hunting) Click Here For More Info.
$2,550
6 Night, 5 Day Dec. & Jan. Hunt
$2,250
4 Night, 3 Day Dec. & Jan. Hunt
$1,750
4 Night, 3 Day Dec. & Jan. Doe Reduction Hunt Click Here For More Info.
$1,250
Fall Turkey Hunt Option (More Info Here)
$250
Interested in a bow hunt for this season? Give me a call at 217-982-4039 or E-Mail Zach@HeartlandLodge.com for more information today!
Early Season Whitetail Hunting>>
 Sign up for our Whitetail Emails to be the FIRST to receive latest scouting & trail cam photos, hunting tips, dates and discounted hunts!
Last Updated: July 13th, 2023