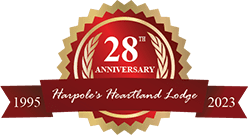 Dog Training Lessons Learned from the Legend Dick Shear
"What I remember most about my father and how he was able to become a master trainer, was his incredible dedication to the dogs and his uncanny ability to seemingly know each dog's thoughts."- Rich Shear
Knowing what your dog is thinking, knowing how it will react, and being able to bring forth the best of its primal instincts with elegance and class, is the sign of a master dog trainer.  In the world of pointers and field trials, the name Richard C.(Dick) Shear, commanded and continues commands respect among its participants.  Although he passed 19 years ago, the legacy of the four-time Grand National Grouse Champion, his work ethic, and ability to forge master field dogs as a working man was unheard of.  Dick's son Rich now lives and runs his own dogs in the same hills his father trained in years ago.  Rich spoke in peaceful remembrance of his father's legacy and shared some insight as to how Dick, even as an amateur trainer, balancing a family, and running a retail business, was able to capture four Grand National Grouse titles over the course of his life.
Since there are no shortcuts for training master dogs Dick never settled for less than excellence from himself and the dogs, not stopping until the dog had exceeded his expectations.  "Dad just knew each dog, almost like he had a sixth sense.  His incredible symbiotic relationship with the dogs allowed him to become a master," Rich recalled. By doing so, he could unlock and bring forth the natural abilities of a dog." Being able to know his dogs and train perfected fundamental ground patterns, at one point, helped Dick train a Grand National Champion in just three and a half years."
From the litter to Grand Champion. His madness.
In field trials, judges look for real amplified energy from the dogs as they run from cover to cover.  This requires you condition your dog for intense cardio exertion.  Even for hunting dogs, making sure they can handle long days of running is critical.  Dick would keep a strict training plan for running his dogs in order to increase their endurance. However, Dick never overtaxed his dogs, knowing when enough was enough for one day so to not risk injury or lose enthusiasm from the dog.   For those wanting to keep the firecracker personality in their dogs as they age, implementing a well thought out conditioning program in place can keep their endurance.
Ground patterns especially for grouse field trials (and hunting) you want to be able to see a part of the dog while having them come in and out of view while working cover to cover. Master ground patterns require the dog always be in front of you.  To teach a young dog his place was in front and never behind, Dick would often run right at a young pup to scare it out in front and teach the dog it's place in front.  In Rich's words, "Dad would work on this forever until the dog began to surpass his expectations.
Teaching and reaffirming a dogs pointing style Dick would work tirelessly with a lead rope.  By keeping the dog on a lead rope when the dog would point, Dick could reaffirm the dogs pointing style or correct mistakes.  After perfecting a dog's pointing style, he would work with planted birds. "Not only would it build enthusiasm for finding the birds, it also would reaffirm what the dog was preforming correctly, said Rich. Dick would keep his own personal quail and grouse pen for this purpose.  Again, working tirelessly chasing excellence.
Knowing the dog and how to best bring out it's instincts to create a master dog was the legacy Dick Shear left.  For the trainer looking to train the best trial or gun dog possible, the lesson to take away from Dick Shear, demand excellence from yourself and your dog. However, achieving excellence comes from creating a deep symbiotic relationship with your dog which allows you to mold and shape your dog the way you envision. 
Jason Reid
Last Updated: October 21st, 2022