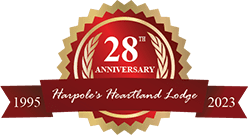 Church Group Conference Venue Locations
Church Retreat Venue Location
Heartland Lodge is the perfect location for your next church conference retreat venue. Harpole's Heartland Lodge in central Illinois offers an idyllic setting for your next church conference venue.  Located in a remote rural setting many call "God's country", this venue would provide the necessary peace and tranquility attendees require for deep reflection and emersion into God's Word.  Your church conference group members will leave Heartland Lodge refocused, refreshed, and reenergized in their mission to share the Word of God and praise Him.
We offer 5 -star lodging, gourmet home-cooked meals, various activities and amenities (see below) multiple conference rooms, private lodges and luxury cabins that can be exclusive to your church group retreat! We are centrally located between Saint Louis, MO and Springfield, IL. A short drive from Chicago, IL or Indianapolis, IN. Our church retreat venue can accommodate up to 72 guests with lodging. We offer several group activities and amenities for your church group retreat including:
Church Group Conference Venue Equipment
Our church meeting and conference facility is fully equipped with the following:
1500 sq. ft. Conference Center– This unique setting for your next church conference can be arranged for your specific needs. Forty ergonomic chairs and tables can be arranged exactly how you would like. If you need more seating, approximately 100 chairs can be set up theater style. This conference room overlooks the beautiful scenery that surrounds Heartland Lodge, including bird feeders and other wildlife right outside the windows. The view is priceless.
Wireless Internet Access – Two completely independent high speed wireless connections.
LED Projector
Telephone for Conference Calls.
Copy Machines
Easels, Projectors & White Boards
Snacks & Refreshments
Church Retreat Boardroom Facilities
We also offer a separate church boardroom with seating for 16 people – This boardroom or break out room will be one that you will enjoy sitting in all day. The handmade chairs are designed to provide comfort for hours. You will also enjoy the hand-crafted table with a painted picture of the original lodge in the center. All the amenities mentioned above are also included in our boardroom.
Church Youth Group Retreat
Who is ready for summer vacation?!  Our team at Harpole's Heartland Lodge is ready to serve as your churches' next youth group retreat.  Our venue in rural central Illinois provides a fun, spacious, and safe environment for your youth group to explore!  Our lodges provide ample space for comfortable sleeping arrangements.  We have many acres for the kids to have water balloon fights or play ultimate frisbee.  Your youth group could even opt to go horseback riding – with helmets of course!  End the evening around a campfire sharing the Word of God and leading the group in worship with songs of His Praise – and don't forget the s'mores!
Please call with any questions you may have about bringing your church youth group to Harpole's Heartland Lodge for a fun and memorable summer retreat!
Church Group Retreat Lodging Options
Renting a lodge or cabin exclusively for your church group meeting or retreat can be a wonderful experience. With eight lodges and cabins to choose from, we have something to offer for church group meetings from big too small. Each cabin or lodge can be rented exclusively for your private church retreat. Our luxury lodges and cabins offer the most amazing views, include deluxe suites with hot tubs, conference facilities and provide all the comforts and coziness found in our Original Lodge.
If you do not require an entire lodge or cabin rental, you are welcome to choose a room or suite in any one of our three lodges and reserve it privately. (Heavenly View Cabin rooms cannot be reserved individually.) The Resort Side of our web site contains more detail on reserving individual rooms in the lodges. Please take a moment of your time to review our different church group lodging options below and give us a call (217-734-2526) if you have any questions or would like to make a reservation for your next church group retreat!
Heavenly View Cabin – Perfect for Church Groups from Two- Ten
Heavenly View is a luxury cabin with views that will take your breath away! Nestled near the top of the Mississippi River bluff, this cabin provides amazing views of the Mississippi River valley and the surrounding property. The cabin sits on 50 private acres in which your church group can enjoy from the covered patios and screened-in porch that adjoin three sides of the cabin. Wake up in the morning with a cup of coffee and step outside to listen to the wild turkeys' gobble around you or watch the whitetail deer feed in the meadow at the bottom of the valley. Savor the sunset and its beautiful colors across the Missouri Hills.
Last Updated: January 19th, 2023