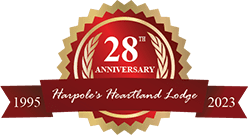 Book Your Valentine's Day Romantic Getaway!
We all know that we can give that special someone in our lives a gorgeous bouquet of flowers…or a heart-shaped box of chocolates…along with a card filled with a nice sentiment. Top it off with a nice dinner out and you've got the makings of a great Valentine's Day, right? But what if you are looking for that extra-special gift…a way to show that certain someone just how much you really care about them?
Valentine's Day Weekend Getaway Ideas!
Guess what? I have the perfect gift idea…and you can thank me later! What could be more perfect than a romantic getaway to Harpole's 'Heartland' Lodge? And to make it even easier to plan something for the one you love, Heartland Lodge is once again offering their February Romantic Packages! With the addition of our four new romantic luxury cabins, you have even more lodging options to choose from and I am confident that you will find the suite or cabin that exceeds your romantic expectations.
Romantic Getaway in Illinois
Are you the romantic type – looking for the peace and quiet of a bed and breakfast  – where you can shower your better half with the traditional Valentine's gifts while on a romantic getaway? Bring your roses, bottle of wine and chocolate-covered strawberries – and enjoy the evening in front of a warm, cozy fire in one of the luxury suites in Prairie Ridge Lodge. The luxury suites are a wonderful place to spend the night – complete with a large, comfortable bed, fluffy pillows, and a gas fireplace. For even more privacy, consider reserving one of our new luxury cabins, located just across the road from the main lodge. But if gorgeous views of the river valley and the amazing sunset are appealing to you, check out the views from the suites at Sunset Valley.
Are you more of the outdoorsy, earthy type who prefers wildflowers to roses? Bring your hiking boots, camera and trail-riding gear and spend the day exploring the property surrounding the lodge. You may not find any wildflowers for your sweetheart during this time of year, but grab the camera and hit the ATV trails to snap some pictures & building memories. If this describes you, then ask if the Whitetail Suite in the Original Lodge is available for your stay.
But what if a romantic weekend or getaway just doesn't fit into your schedule right now?  Don't fret! Ladies (and gents) like receiving gift certificates in their cards. And giving a gift certificate not only covers the 'gift' part of the day but gives you a date to look forward to and a chance to celebrate twice!  Think about it – dinner out on Valentine's Day – and a made-from-scratch dinner and brunch served to you while at the lodge. What could better than letting Heartland Lodge put the "Heart" in your Happy Valentine's Day?
Purchase a Valentine's Day Gift Certificate Here >>
Lori Biehl
Twenty Plus-Year-in-a-Row-Guest
Last Updated: January 9th, 2023