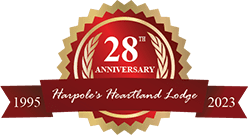 Abraham Lincoln Probably Didn't Stay Here…
…but if YOU stay at Harpole's Heartland Lodge, you can plan a great getaway for you and/or your family by adding some Abraham Lincoln history to your planned activities.  Staying at the lodge places you only about 70 miles from Springfield, Illinois and the heart of the Land of Lincoln.
Now I grew up about an hour west of Springfield – and actually lived there for a short time after high school.  I have also been back many times throughout the years since moving to Missouri.  However, I honestly did not realize how many places in Springfield are connected to our 16th president of the United States of America – and I am excited to explore the city again someday.
One of the newest and most talked about places to visit is the Abraham Lincoln Presidential Library and Museum.  I have had the privilege of visiting the museum with my niece a few years ago on her field trip but unfortunately, have not visited the library.  What a wonderful and informative place to visit!  Gathered in the museum is the world's largest collection of documentary material relating to the life of Lincoln.  This one-of-a-kind museum uses 21st century technology to transport you back to the 19th century life and times of Abraham Lincoln – making it a world-class facility and a must-see!
Do you want to see where Lincoln lived for 17 years?  Check out the Lincoln Home National Historic Site (www.nps.gov/liho/index.htm), The 12-room, Greek revival home has been fully restored and is located at Eighth and Jackson streets in the middle of a four-block historic neighborhood.  Tours, lasting 20-25 minutes, are offered on a first-come, first-served basis and FREE tickets are available at the Visitor Center information desk.  After touring Lincoln's home, learn about Lincoln's neighbors by exploring the neighborhood surrounding the home.
Are you curious about what Abraham and Mary Todd Lincoln paid for their monthly mortgage and grocery bills?  Visit Chase Bank in downtown Springfield during regular banking hours to view Mr. Lincoln's original account ledger with the Springfield Marine and Fire Insurance Company.
Your Abraham Lincoln tour should also include a visit to the Lincoln-Herndon Law Offices (www2.illinois.gov/dnrhistoric/Experience/Sites/Central/Pages/Lincoln-Herndon.aspx).  Lincoln practiced law in the building from 1843 to approx. 1852.  His partner, William H. Herndon, maintained the practice during Lincoln's 1847-1849 term as a United States Congressman.  The National Register of Historic Places listed this three-story brick building as a part of the Central Springfield Historic District in 1978.
You have now seen where Lincoln lived and worked but your history lesson can't be complete without a stop at Lincoln Tomb, located in Oak Ridge Cemetery (www2.illinois.gov/dnrhistoric/Experience/Sites/Central/Pages/Lincoln-Tomb.aspx).  Abraham Lincoln, his wife Mary, and three of their four sons have all been laid to rest here.  This, too, is on the National Register of Historic Places and has been designated a National Historic Landmark.  In addition to the public receiving vault, you can view reproductions of important statues and excerpts from Lincoln's Springfield farewell speech, his Second Inaugural Address, and the Gettysburg Address.  A 360° Virtual Reality Tour is available on the web site – check it out before you go! Learn more about the Civil War Sesquicentennial and planned events for Springfield by clicking on the link located at www.nps.gov/liho/index.htm.  I am sure that at least a few of these activities can be tied to your Springfield visit!
One item that I found interesting and am definitely going to try and do this year is to "Walk In Lincoln's Footsteps".  There are suggested walking paths to take for 'Daytrippers' – either on Sunday and Monday or Tuesday through Saturday.  Don't forget the camera as you and your family walk along these routes!
And last but not least, don't forget about Lincoln's New Salem, located about 20 miles northwest of Springfield.  This village is a reconstruction of where Lincoln spent his early adulthood and no trip to Springfield to learn about Lincoln would be complete without a stop here!
Whether you decide to take a day trip from the lodge, or drive through Springfield on your way to or from the lodge, you will not be disappointed!  If you're like me, the more you browse the web, the more things you will find to do to learn about Lincoln.  Use the technology to get there, but then step back in time and enjoy life, as one of our most famous presidents knew it.
-Lori Biehl
Heartland Lodge Lodging Accommodations
Last Updated: May 9th, 2023