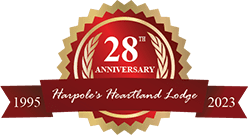 Three Ways To Introduce A Kid To Hunting
Sun fading brightly in the western sky, the clouds bled vibrant pink and orange. The group of deer milling under the stand of my father and I had nary a care as they munched content on the crab apples below. A giant bodied buck emerged from the weeds joining the group of does and small bucks. Even as a young boy, I knew what was about to happen. As my father studied the buck's body waiting for the right moment, not just any moment.  I watched his eyes, watching the deer. I studied how he handled the situation while I shook harder than a maple leaf in a windstorm. There was one problem, his arrow had jumped his rest and was laying on the handle. In the days well before Whisker Biscuits and drop- away rests, the classic two pronged arrow rest was the norm. I tapped Dad's coat keeping my voice at a whisper. He moved the arrow onto the rest, drew, anchored, and sent an aluminum shaft through the buck.   I must have only been about nine or ten at the time, but remember feeling even more excited than my Dad after was at having witnessed a successful hunt. We walked not just as father and son back to the truck to meet the guys, but as hunting partners.
Why do I write this? I write this since teaching our children to hunt and introducing young children to our culture is just as important as ever.  I had a special childhood in which my father began taking my brother and me hunting at the age of two. We have not strayed away from the love of the chase even 20 years later.  But I write this for a different reason- an inspired reason, because I just found out my best friend in the world, and his wife are expecting their first child.  As our group of hunting buddies assume the role of the cool adopted uncles of this child, we have already sworn to teach and help guide the young one, a person we already love, in the ways of the woods.  And with this sudden inspiration, here are a few general areas of the outdoors my father successfully introduced my brothers and me to the outdoors and has been able to keep us growing as responsible sportsmen for almost two decades.
Early Season Whitetails
Early season archery hunting for whitetails is one of the best if not the perfect time to introduce kids to hunting.  With cooler and warm temperatures, staying warm is not a huge factor.  Avoid taking kids on brutally cold hunts unless they themselves show the enthusiasm.  Once I had to arm wrestle my dad into taking me on a goose hunt in 11 degree weather.  I wanted to go with a burning passion, but only because of that passion did he allow me to go.  Otherwise, don't take a kid into frigid temperatures, you could lose them fast.  But another reason early season bow hunting is a great learning ground for children is since you are able to set up on early food sources and whiteness un-pressured whitetail interaction.  Letting a kid watch deer interact will not only fuel their fire but begin the long teaching process of the ways of the woods.
Waterfowl
Fast, in your face action.  Wood ducks screaming through flooded timber, mallards and teal maple leafing into a decoy spread or geese
circling the spread and locking their wings dropping into a cut corn field right above the layout blinds.  Waterfowl hunting can pack an adrenaline surge to overload an young kid's system.  A great social event mixed with action not only captures the child's often short attention span, but the social aspect of being surrounded by friends and family members reinforces the strong family connection hunting gives us. One of my favorite memories of being a kid was sitting on an old beaver dam with the sulfur muck odor wafting into my nostrils.  And once the guns went off, my uncle's dog dragging me through the mud.  Maybe giving a seven year old the leash and command over the lab wasn't a great idea.
Air Guns
Teaching the basics of gun safety and respect is not only key to the survival of our culture as hunters but is a less intrusive way to teach young children shooting skills.  Proper form, follow through and safety are learned and, there is little chance a kid will become gun-shy due to noise.  Through the use of air guns, you can begin even introducing the concepts of responsible and ethical shot placement.  Shooting air guns is also quality time spent as parents and children, growing the bond of future hunting partners, one shot at a time.
There are always ways to introduce a child to the outdoors. Try it and you might end up like my Father- with a hunting partner and friend for life.
Jason Reid
Last Updated: May 9th, 2023