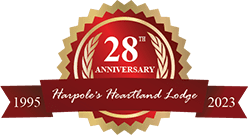 "More…" for the New Year!!!
Some of you may recognize me from reading some of my previous blogs, or from some of the events throughout the year at Harpole's Heartland Lodge (I am there on most Girls' Getaway Weekends snapping photos of all the fun.) Unfortunately, I had gotten away from blogging so I was VERY excited when Gary asked if I would be interested in writing some new ones for you! Of course, I said YES…and the ideas started flowing again! I honestly have to admit that I have missed this…so I am looking forward to providing you with a few minutes of reading while we cover all types of fun things to do while staying at the lodge. You might even learn a little bit of the lodge history along with some historical tidbits you might not be aware of from the local area. So WELCOME to new readers and guests of the lodge…and WELCOME BACK to those that I have met over the years! Enjoy the ride!!
I recently saved a Facebook post with some suggestions of what to do in the new year. It read (credit to Positive Energy+.)
"More sleep. More music.
More tea. More books.
More sunsets. More creating.
More long walks.
More laughter. More hugs.
More dreaming. More road trips.
More fun. More love."
So of course, I began thinking about these suggestions and looking at my own life. After all, who doesn't do the same thing at the beginning of a new year? Some of you may just not admit it! But if you DO think about adding a few things to the New Year, the items mentioned above are actually pretty easy to do! If one of your plans for the new year includes a vacation or getaway, a getaway to Heartland Lodge would easily cross off most of the above list. Follow along and you'll see what I mean!
More Sleep – I bet this is always at the top of your list. But realistically, more sleep probably just isn't possible with everything going on in your day-to-day life. But what if you slept in one of the most comfortable triple-sheeted beds you've ever slept in? And you didn't have to prepare your meals? Giving up meal preparation allows for more sleep…maybe!!
More Music – Who doesn't enjoy more music? Music is my escape from the stresses of daily life. I have an extensive CD collection that I play when I travel…with different songs for different moods or trips. I've been told that I may have to give up my CD player when I replace my '06 van…but I'm determined to find a vehicle with a CD player! So whether you still have a CD player in your vehicle or not, crank up that music and enjoy the drive!!
More Tea – I am a 'sweet tea' girl…but more sweet tea means more sugar and we know that doesn't work with the goal of losing weight! But if you are a hot tea drinker as my mom is, then this might be a good one for you. You could always enjoy a tall glass of iced tea on the porch or deck of your room in the summer…or a cup of hot tea while relaxing in your room during the cooler months.
More Books – My CD collection may not be as big as my book collection…so I may never have enough time to read all of them. But one of my hopes is to just read a book each month of the year. Just imagine…you're on a getaway to the lodge, you've brought along a book or two of your own that you've been neglecting (or you found a new one to read from their bookshelves), and you can relax with time to enjoy the read!
More Sunsets – On our way to dinner on New Year's Eve, the sunset was gorgeous! And the photos on social media since January 1 have proven that there have been several beautiful sunsets so far this year. But there is nothing better than viewing the sunset from the rolling hills surrounding Heartland Lodge. In fact, one of the lodges is named Sunset Valley! Can you guess why? The sunset seen from the expansive deck of this amazing lodge is incredible!!
More Creating – Oh my…this could mean so many things! 'Creating' is a verb meaning to bring something into existence. Some of my best thoughts, writing and photography have been created at the lodge. Some of my best friendships have been created at the lodge! And some of my best memories have been created at the lodge! But "More Creating" doesn't have to be limited to just a few people. Imagine holding your company retreat at the lodge and instead of brainstorming, you and your colleagues spend more time creating?
More Long Walks – Many people set a New Year's goal of exercising more. But really, when you use the word 'exercise', how fun is that? But what if taking a long walk were to replace exercise…if even for a weekend? The countryside surrounding the lodge and cabins would be a much better alternative to the typical gym…at least for me. The cool fall air, a brisk morning walk with frost on the ground, a leisurely stroll in the summer – get the picture?
More Laughter – We've all heard the saying "laughter is the best medicine." Well…it's actually true! Not only are there many physical benefits to laughing (boosting mood, strengthening immune system) but it also inspires hope, lightens your load and connects you to others. I have been at the lodge many times over the years…and one thing you will always hear is laughter! From a chuckle between hunting buddies to the lighthearted laughter of ladies enjoying themselves on the evening hayride to the laughter shared between guests and staff. Laughter really IS the best medicine!!
More Hugs – I have learned over the years that hugs play a close second to laughter…they can reduce stress, boost your mood and connect you to others. Whether you come to the lodge with your significant other, your family or your best friends, there are sure to be hugs throughout your stay. We hug when we greet friends that we haven't seen in a while, we hug when someone is hurting, we hug when we leave and wish each other well. Give those hugs…and openly receive them!
More Dreaming – Do you dream in your sleep? Or are you a daydreamer? To be honest, we probably all do a little of both. I know I do! But it doesn't matter which type of dreamer you are, you will most likely have some of the best dreams while staying at the lodge…sleeping in triple-sheeted beds, snuggled in after a day of enjoying the fresh air…you'll have some of the best nights of sleep…and dreams!!
More Road Trips – I LOVE a good road trip!! I have certain music that I listen to and my favorite snacks are always along for the ride. A road trip doesn't have to be cross-country to be considered a road trip. Make YOUR road trip any distance you want…just make a fun adventure out of it! And if you're thinking of taking a road trip this year, you definitely won't go wrong planning one to Heartland Lodge!
More Fun – Horseback riding, ATV trails, sunset hayrides, bonfires and s'mores! You could throw in a day trip to a local winery or to Hannibal, MO (home of Mark Twain.) Plan your own fun! I've seen sledding in the winter and girls tie-dying shirts in the summer! The options are endless and I would love to see what you come up with!
More Love – Need I say more??
So…as you can see, Heartland Lodge is a great place to make sure you cover everything on this New Year's list. Just don't let the year get away from you without going on that road trip, watching a sunset, or laughing and hugging more. Happy New Year!!
Lori Biehl
Twenty (Plus) Year-in-a-Row Guest, Blogger and Photographer
Last Updated: January 25th, 2023