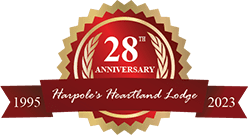 How to Make a Comfy Bed
To make a really comfy bed you need to start with a good mattress and box springs. Here at Harpole's Heartland Lodge we have always used King Koil mattresses.
Always use good quality products when covering your mattress.  Use sheets and coverings that have a thread count of 400 or more. (We prefer Egyptian Cotton Sateen sheets Place over your mattress a feather bed mattress pad. This will make your mattress ultra comfy. Then place your fitted sheet and top sheet over the feather bed mattress pad. Place a comfy blanket over the top sheet, then another top sheet over the blanket. (This is what they call triple sheeted.) Then place several feather pillows on top of the last sheet. (We like to use at least four on a king sized bed.) Pick your favorite comforter or bed spread to finish off your bed fit for a king!