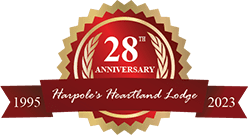 Join Our Team
Heartland Lodge's team consists of a group of amazing people who love what they do, love the guests they meet and the teammates that they work with. We are always looking for great people to join our wonderful team. Heartland's vision is to help improve our local community, making it a better place for everyone to live. We are growing each year and are looking for quality people to be a part of our growth. The future is very exciting and we are looking forward to adding more outstanding people to our Heartland Lodge Team & Family.
"I have lived 30 minutes from Heartland Lodge and had no idea it existed until a family member started working there. I quit my job at another lodge to work at Heartland and it was the best decision I ever made! I appreciate working here every day knowing I work with people who truly appreciate your work."  Katelyn Agney
All positions pay well and everyone receives tips and bonuses!
Servers & Housekeeping
Servers & Housekeeping – Looking for full and part time servers and housekeepers.  Retired people who are looking to stay active are welcome to apply too.
Please e-mail Wanda at: Wanda@HeartlandLodge.com or call 217-734-2526 (9am -6pm)
Chef/Cook Position
Chef/Cook Position – At Heartland the cooks are one of the most important positions at the lodge. Everyone who stays loves our meals. We are looking for full and part time cooks to be part of our wonderful team!
Please e-mail Wanda at: Wanda@HeartlandLodge.com or call 217-734-2526 (9am-6pm)
Guides
Whitetail, Upland, Turkey and Equestrian – Quality guides who enjoy working with people are welcome to apply.
Whitetail & Turkey – Please e-mail Matt at: MattB@Heartlandlodge.com
Upland – Please e-mail Terry at: TerryA@Heartlandlodge.com
Equestrian – Please e-mail Wanda at: Wanda@HeartlandLodge.com
More From Our Team
"Working at Heartland has given me the opportunity to meet some extraordinary people. I enjoy being able to make a difference in people's lives every single day.  Our staff is like family to me and our guests become part of that family too! I love it here!" Melissa Wilson
"I've been here for almost 4 years, I have to say my life wouldn't be the same if I hadn't found this place. The staff has become my second family & it's so beautiful and peaceful here. This place has truly changed my life!" Alicia Crowder
"I enjoy going to work every day at Heartland! The Heartland family is a group of positive individuals that work together to accomplish team oriented goals." Zach Jumps
"A positive environment where teamwork and family are priority." Stephanie Hill
"The best place I have every worked! I have worked in several different states and never thought I could find a job I love so close to home until I started working at Heartland 9 years ago. Great people, great team and a great place to work." Terry Abney
Our team at Harpole's Heartland Lodge is more like a family than co-workers. Everyone at Heartland enjoys working together and many are good friends outside of work. Our belief is to get the the right people on the "bus" (Heartland Lodge), in the right seats on the "bus" (The perfect job for you) and we can take the "bus" anywhere we want it to go with our people leading the way.
Please e-mail info@heartlandlodge.com if you are interested in applying for for any other positions at Harpole's Heartland Lodge.