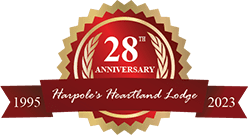 Choosing the Right Resort or B&B
There are a lot of options out there for you to choose for your next weekend getaway or vacation. The internet has made finding these gems a lot easier, but you need to do your home work before making a final decision. Without doing a little research your dream getaway may end up being a disaster.
A fancy website with great pictures is not a guarantee that the location you are considering is going to be the right place for you. In fact, the nicer the web site the more you should verify its content. It's unfortunate but not uncommon for a location to alter their photos on their website. A picture of a beautiful view on the website might have been altered and when you arrive there is actually a building obstructing your view. Many pictures are altered on web sites, therefore you should not go by pictures alone.
As with pictures text can be written to say anything on a website. Make sure you verify everything through e-mail. Having a written trail will help you if you encounter any problems upon arrival to your destination and during your stay. Make sure you bring all your documents with you, including your e-mails.
Reviews have become a popular way to evaluate destinations. Trip Advisor, Google, and several others give consumers an unbiased review of the location, right? Hold on just a second, before taking those reviews as gospel; know that many places fabricate them. That's right, they have friends, relatives and even make up fake names themselves. Look for the places that don't have all perfect reviews and read those that did not give them all 5 stars. No place is perfect and see what the issues where and more importantly how the location handled them.
So, what are the best ways to know if a place is all that it says it is? If you know anyone that has traveled to the destination ask them for their opinion. Having a personal reference from someone you know is very valuable. With today's social media it's easy to find someone who has probably been there or knows someone who has. If it's feasible take a drive and visit the location. This is the best option. Taking a road trip can be fun and you will see firsthand what the resort or bed and breakfast is like.
Trip insurance is always a good option. It's well worth the investment to have the peace of mind if something comes up you can get your money back. Please call the insurance company and make sure you understand all the rules and regulations with each insurance policy. We recommend trip insurance for all of our guest and use Travel Guard Insurance.
Lastly, if you are driving to your destination, take with you directions off the resort's web site. Even if you are using a GPS or Google maps you will want to print off the directions from their web site. Many GPS and direction web sites like Google do not always take you the best route. This can cause frustration if you get lost before your get-away trip even starts. Always take the locations phone number and if you get lost or have questions, give them a call.
Hopefully these tips will help you in planning your next getaway!