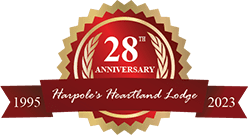 ATV Wedding Location

Have you ever dreamed about having the ultimate ATV/UTV or Motocross Wedding!? Several guest from across the nation have made this dream come true at Harpole's Heartland Lodge ATV Park, and you can too! Heartland's 1,200-acre ATV Park with 60 + miles of ATV/ UTV/ Motocross trails paired with 5-Star lodging options, gourmet meal plans and indoor or outdoor wedding options makes Harpole's Heartland Lodge the #1 ATV wedding destination in the nation!!
ATV Wedding Destination Location Highlights:
1,200 Acres/ 60 + Miles of ATV/UTV/ Motocross Trails
Luxury Lodging/ Honeymoon Suites/ Entire Lodge Buyouts Available for Small or Large Wedding Parties/ Individual Private Luxury Cabins
Large Reception Hall
Several Activities Including Rental UTV's, Fishing, Horseback Trail Riding and More for the Days/ Hours Leading Up to "I Do"
1 Hour from Springfield, IL/ 2 Hours from Saint Louis, MO/ 4-5 Hours from Chicago, IL
Work with our knowledgeable ATV wedding coordinator to plan the perfect ATV wedding that all guests will be sure to enjoy!!
ATV Wedding Lodging Options
Heartland Lodge offers three, 10,000 sq. ft. lodges and five luxurious cabins for our ATV weddings! See details below:
Sunset Valley Lodge Suites, Recommended for The Bride & Groom – There are three suites in the Sunset Valley Lodge. The Grand View Suite, All About the View Suite and Sunset View Suite are perfect for the newlyweds.
Private Luxury Cabins – These honeymoon cabins are decorated with its own unique theme. All cabins are carefully crafted with knotty pine and cedar walls, fifteen-foot vaulted ceilings, hand-carved Old Hickory furniture, high quality fixtures and appliances. Each cabin with a heart shaped hot tub (Whirlpool tub) also features a romantic fireplace, ultra-comfy king-size bed, large 4K Ultra HD television with 4K Blu-ray player for next level viewing experience. Enjoy the fireplace and TV while relaxing in the hot tub!
Luxury Suites in the Prairie Ridge Lodge
– These suites have king-size, triple-sheeted canopy beds, private Whirlpool, fireplace, day bed, comfy chairs, walkout porch, and each suite is decorated according to its own theme. The ultra-comfy beds have become an attraction themselves!
Whitetail Suite – The Whitetail Suite in the Original lodge is still one of the most popular rooms booked every year. This rooms features a king-size, triple-sheeted canopy bed, a private two-person hot tub, and fireplace. This suite is decorated in a Whitetail theme after the beautiful whitetail deer that are abundant around the resort. This room also has French doors leading to a walkout porch with a porch glider – perfect for viewing the wildlife.
For even more lodging options for larger weddings, we have the Original Lodge and Heavenly View Cabin!
For more information about hosting an ATV Wedding at Heartland Lodge, please give us a call at 217-734-2526 to talk with our wedding planner or email Office@HeartlandLodge.com
Visit our main Wedding Page Here >>
Full List of Activities & Amenities >>
Last Updated: January 3rd, 2023