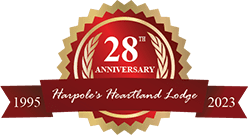 Celebrate New Year's Eve in Style at Harpole's Heartland Lodge
December 1st, 2022- "Right now is the time to book your New Year's Eve Getaway! We are filling up quickly, you won't want to miss out! Bring along your friends and family and celebrate in style at the lodge! Celebrate the entire weekend or make a weekday getaway vacation! Give us a call at 217-734-2526 or Book Online Here >>"
---
It has always been difficult for my husband and me to come up with decent New Year's plans.  Other holidays are different.  Thanksgiving, Christmas, even 4th of July come with implied family obligations.  I never have to make the plans.  They are made for me based on years of tradition and sometimes guilt.  New Year's Eve is very different though.  There is no predetermined plan.  There is no set of traditions.  There is only the expectation that fun will be had.  My husband and I have a long history of rotten New Year's Eves.
One year we decided to throw a party.  We invited at least 50 people and spent hundreds on food and drinks.  It would be our first grown up party in our own place.  We had spent weeks planning.  I had cleaned and cooked until everything was perfect.  Then, we got hit by a giant snowstorm and almost everyone cancelled.  My husband and I wound up sitting on the couch watching the ball drop and trying to make a dent in the extra-large shrimp trey we ordered.
The year before we had planned to spend the holiday with my parents.  We made reservations at a fancy restaurant that had advertised a "New Year's Celebration."  The spread in the paper mentioned a dinner, balloon drop, dancing, etc.  Well, we walked into a near empty restaurant with one man singing on a karaoke machine.  While they did serve dinner, there really wasn't much else going on.  When I asked the waiter, he said that they may have oversold the party a bit.  We wound up leaving at about 9:30pm…
The year before that, we were invited to a party at a friend's house.  What we didn't know was that the party "at a friend's house" was actually at "a friend's parent's house." And it wasn't so much of a party as a quiet, intimate night of awkwardly starring and discussing the weather.
Finally…last year.  Last year the two of us thought we would be best served spending a quiet night at home cooking a nice meal for ourselves and watching the New Year's coverage on television.  We went to the grocery store to get the ingredients for paella and quickly became discouraged.  The spices alone would cost $45, and we couldn't find the majority of the other ingredients.  Since time was running out, we found a recipe for a homemade pizza and decided to give it a try.  It was a miserable failure and we both wound up with a stomachache…
New Year's Eve sure looks like fun in the movies and on television.  Friends. Food. Dancing. Champaign.  Ringing in the New Year in style.  It all sounds so easy and yet somehow, my husband and I always missed the mark – either through poor planning or just bad luck.  I only wish I had found out about Harpole's Heartland Lodge all those years ago.  Instead of spending hundreds of dollars on food and fancy drinks only to be disappointed and in bed by 10:30pm, I could have been celebrating with the ones I love in the comfort and luxury of the lodge.  Why toil away over hors d'oeuvres or spend big bucks at a restaurant only to be bored stiff an hour later?  Why clean and decorate only to host a party that will leave your house a mess?  At Harpole's Heartland Lodge everything is taken care of for you for one price – an amazing meal, first-class luxury accommodations, access to games and activities, and even a yummy brunch the next day!  On top of all of that, you get to stay with some of the warmest, friendliest people in the world.
Next time you are looking to celebrate a special occasion like New Year's Eve, don't make the same mistakes I have.  Give the Lodge a call at 217-734-2526 or check out there amazing Luxury Lodging Options Here>> They offer private luxury cabins and suites with king beds, two-person jetted tubs, fireplace and more! If you want to bring the entire family, the lodge can accommodate that as well with 3 different lodges and 5 cabins to choose from!
Nicole
Last Updated: December 1st, 2022