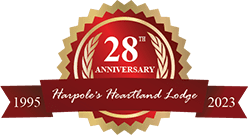 Chestnuts Roasting on an Open Fire!!!
"Chestnuts roasting on an open fire…Jack Frost nipping at your nose…".  When you hear these words, what comes to mind?  For most of us, it's one of the most recognized and beloved songs of the season – "The Christmas Song" – or commonly subtitled "Chestnuts Roasting on an Open Fire".  Mel Torme and Bob Wells composed the song back in 1946 with Nat King Cole's recording being the most popular version.
As the weather here in the Midwest has turned bitterly cold  – Jack Frost is nipping at more than just your nose – thoughts of roasting Chestnuts over an open fire is certainly very appealing.  But where does a person go to find chestnuts perfect for roasting?  How about Chestnut Ridge of Pike County (chestnutridgeofpikecounty.com)?  I was surprised to learn earlier this fall that Pike County, Illinois is the proud home of a chestnut orchard.  And you know me and surprises!  I just had to go check it out!
So on a beautiful, sunny day just a couple of weeks ago, I had the pleasure of meeting Dale and Linda Black, owners of Chestnut Ridge of Pike County.  I had so much fun visiting with them and learning about how this little known gem so close to home has grown over the years.  Dale is a lifelong resident of Pike County and when he and his wife, Linda, had the opportunity to purchase the farm adjacent to their home in 2000, they did so.  After purchasing the ground, someone suggested planting chestnut trees – the trees and the wood would be there for the next generation of the Black family – and they would be able to enjoy a chestnut crop in the meantime.  Dale and Linda have said that the orchard will either be their kids 'opportunity' or their 'problem' – and which one it will be is still up for debate!
Chestnut wood is a hardwood and is insect and rot-resistant but a chestnut blight was most likely introduced – completely by accident – to North America around 1900.  This disease wiped out most of the American chestnut trees by 1940 so research was conducted beginning in the 1950's and eventually, a cross-pollinated chestnut tree was introduced.  The Dunstan Chestnut tree is approximately 15/16 American chestnut and 1/16 Chinese chestnut.  The 1/16 Chinese chestnut is hopefully enough to deter another blight like that experienced in the early 1900's.  This new breed of tree produces larger and sweeter chestnuts that are easier to pull than the original American chestnut tree.
The chestnut itself is very similar in appearance to a buckeye.  It grows on the tree in a spiny burr, which once tree-ripened, falls to the ground around the tree.  Therefore, chestnuts are harvested off the ground.  Once harvested, the chestnut is separated from the burr and after being sorted according to size, must be refrigerated because they are semi-perishable.  The chestnut has two skins – the first is a shiny brown hull or husk and is very hard.  Beneath the hard hull is a thinner skin that grows with the seed of the chestnut.  American chestnuts are smaller than some other varieties, but its fruit is very sweet tasting with an easy to remove second skin.  Dale has actually built a separator that will separate their chestnuts according to size – 1", 1 1/8"; and 1 1/8"+ (which is considered extra-large).
So, the orchard has been planted for 12 years and the Black's have been harvesting chestnuts in excess of their personal consumption since 2006.  They currently have 30 acres of trees planted and even though you can buy chestnut trees ready for planting, Chestnut Ridge is a seedling orchard.  As Linda took me on a tour of their orchard, it was quite obvious that this is definitely Dale's pride and joy – a face that she confirmed by stating "he wants it to look like a golf course" – and if anyone has ever mowed around plants or trees, they know that this is not an easy task.
The chestnut harvest normally occurs from mid-September to mid-October but because of the drought in the Midwest this year, their harvest actually began August 21st.  During this time, Linda's folks, who live in Quincy, and other friends and family take up residence in a couple of motor homes – lovingly called Camp Chestnut – near their processing facility.  In addition to family and friends, they also hired a group of workers who had just finished with a grape harvest – these workers were able to stay on through the packaging process and "did a marvelous job."  Everyone works as much as 12-16 hours per day, picking up chestnuts off the ground surrounding the trees.  Because of the spiny burr, they wear leather gloves and use 5-gallon buckets or bushel baskets.  This year, too, was the first year the Black's had used any type of mechanical equipment to harvest the chestnuts – and they did so on approximately 1/3 of the orchard.  However, even with the orchard sweeper, the chestnuts still have to be hand separated from the burr.
But as the orchard grew, so did their production and sales.  Since 2006, when the harvest exceeded their consumption, their harvest has increased – 8,000 lbs. in 2011 to 14,000 lbs. in 2012 and Linda stated that now, it is not uncommon for them to almost double their production from the previous year.  Hy-Vee is their single wholesaler and you can find "Chestnut Ridge" chestnuts throughout their stores in the Midwest.  Hy-Vee's order has grown from a couple thousand pounds of chestnuts their first year to 4,000 lbs. in 2011 and 6,000 lbs. in 2012.
However, Linda indicated that approximately 50% of their sales are through the Internet.  They have shipped as far away as Hawaii and Canada, but have also shipped packages to Florida, Kentucky, Ohio and Illinois to name a few.  Chestnut Ridge ships their packages via Priority Mail through the United States Postal Service and is proud to support their local post office through this endeavor.  But shipping isn't their only method of delivery.  There is a group of Bosnians in Chicago that purchased 2,000 lbs. of chestnuts, arrived with a van to pick them up, and then called and ordered an additional 500 lbs!
So, what is the appeal of chestnuts other than for the wood?  Chestnuts are a healthy, gluten-free alternative to almonds or other nuts and can be prepared in many ways.  They can be sliced open and eaten raw, roasted and eaten warm, or used in dishes such as Chestnut Hummus, Chestnut Pesto or even Cheesy Chestnut Potatoes.  I had never tasted chestnuts before meeting Dale & Linda but had the opportunity to eat them right from the shell or after roasting.  I am anxious to try the Chestnut Hummus at some point!
So the next time you are looking for a healthy, low-fat snack or a unique recipe to try on your friends and family around the holidays, consider chestnuts.  We're obviously late into the season this year, but I plan to pay Dale & Linda a visit in the spring next year as well as sneak a peek at their harvest so stay tuned for more pictures.  In the meantime, check out their web site at chestnutridgeofpikecounty.com for further information on placing an order or finding a new recipe to try.  You might be surprised at adding a new ingredient to your next cooking endeavor!
After spending the day with Dale and Linda at their chestnut orchard, I drove on down to Harpole's Heartland Lodge and enjoyed the rest of the evening taking pictures of their Christmas decorations and holiday lights!  Yes, the orchard and the lodge both sit on the Mississippi River bluffs in Pike County, Illinois!  I've known about the lodge now for 14 years but I am learning so much more about Pike County and its little hidden treasures.  I can't wait to share more with you throughout the upcoming year!
And finally, a huge thank you goes out to Dale & Linda for letting me into their world of chestnuts!  What a great couple – a couple that is very passionate about their orchard – proof that hard work and persistence can truly pay off!
Lori Biehl
Fourteen-Year-in-a-Row-Guest
Main Resort Page   Illinois Weekend Getaways
Last Updated: December 13th, 2022