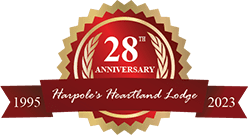 Enjoy the Fall Season with Family & Friends at the Lodge!
Autumn in Illinois is a true treasure. The Land of Lincoln turns into a beautiful mosaic of lovely shades of red, orange and yellow.  Briskness fills the air.  Neighbors burning leaves creates a certain level of welcome, "coziness"…. a warmth.  It's the perfect time to enjoy some relaxed, low-key family time before the business and the pressure of the holidays starts up.
Most of us already have traditions for the big holidays.  That's why autumn presents us with such a unique opportunity to make new memories – to do something different.  Here are a few suggestions, feel free to add some of your own.
Make a Meal-
What's better than breaking bread with loved ones?  Thanksgiving requires a turkey and Christmas usually a ham, but why not relax and do something a little more casual for the fall season?  My little sister recently held a "fall festival" of sorts where she served BBQ pulled pork, steamed carrots, and sweet potatoes.  Nothing terribly fancy.  Just good home cookin' with good company.  Pick a recipe that the kids can help with and remember…if everything doesn't turn out perfect, that's ok, you'll always have the memories.  Other easy comfort foods include chili, chicken and dumplings, or a hearty stew.  Your crock pot can be your best friend in this situation!
Make a Treat-

As part of the same fall festival, my sister suggested making and decorating our own caramel apples.  When she first mentioned the plan it sounded like a sticky mess, but her persistence paid off and it was actually pretty fun.  She melted caramel in a little crock pot and we took turns dipping our apples.  This is a great activity to do outside (if it's warm enough) and with kids!  It doesn't have to be expensive either.  Nuts, the traditional caramel apple decoration, can be pricey, so my sis provided some alternatives like crushed peppermints, crushed pretzels, and m&m's.  Our apples didn't turn out perfectly (probably because we forgot to put them in the fridge when we were done)…but it was certainly a good time.  And they all got eaten!
Make a Craft-

As a kid, I was never terribly crafty, but thanks to the internet and sites like Pinterest, you can now get outstanding ideas for fun crafts that are low-cost and low demand.  This is perfect for a fall evening with the kids or even a group of girlfriends and a few glasses of wine.  If your plan is to create a memory with a group of loved ones, then don't stress on a detail-oriented, difficult project that will require time and concentration.  This isn't a school project that parents take over because it has to be perfect.  It's an opportunity to catch up, laugh, and make something you'll enjoy.  My friends and I hold a monthly "Art Night" where we get together, drink some wine, and try to make something a little fun and different.  Our most recent creation was this pumpkin out of canning lids.  Here's a link to some instructions.  Whatever you do, don't focus on getting it just right.  Just have a good time.
Make an Adventure-
They say there is no place like home for the holidays.  So, why not plan a little getaway for right before the holidays?  Fall is so lovely in Illinois and there is a lot to see and do.  Northern, Central, and Southern Illinois offer travelers a unique opportunity to make lasting family memories, while taking in some truly unique sites.  Visit Starved Rock State Park, the Morton Arboretum, Lincoln's New Salem, Cahokia Mounds, or the Garden of the Gods.
If you are looking for a real treat for the family, visit Harpole's Heartland Lodge and bonfire, s'mores, a relaxing stroll, two-person jetted tubs, fishing, horse-riding trails, sporting clays and hearty home-cooked meals!
Have questions? Give us a call at 217-734-2526 or E-Mail Office@HeartlandLodge.com today!
-Nicole
Last Updated: September 1st, 2023