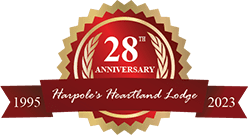 "The Stockings Were Hung…!!"
"…by the chimney with care, in hopes that Saint Nicholas soon would be there." We all know and love the classic poem "Twas the Night Before Christmas" by Clement C. Moore and it just wouldn't be Christmas without hearing The Christmas Story at least once. Reading the story on Christmas Eve has even become a tradition for many families. How do you share this favorite Christmas story with your family?
But what if you have your stockings all hung and nothing to put in them? Or what if you don't have any stockings hung at all? You do realize that Christmas is only nine days away, right? I know…Dan and I are in the same situation…and there are constant reminders out there letting us know just how close to Christmas it is.
However, don't fret yet…I've got the PERFECT solution for you if you find yourself in either one of these dilemmas! The elves at Harpole's Heartland Lodge can assist you in your last minute gift shopping – both with your gift(s) AND your stockings! If you've ever been a guest at the lodge during the holidays, you know that all three lodges (Original, Prairie Ridge and Sunset Valley) are always decked out for the holiday season. Just take a look at the album of Christmas photos that the lodge just posted on Facebook and you'll see what I mean! You will notice that Miss Wanda always makes sure there are stockings hung by the fireplaces but of course, the stockings that she and her elves hang at the lodges aren't helping you out. But Santa knows that the Christmas stockings are an important piece of the décor at the lodges so, earlier this year, he made a special trip to Heartland and dropped off specially-made stockings to Miss Wanda and her elves.
The elves recently told me that any one of these stockings, embroidered with the Harpole's Heartland Lodge logo, would look GREAT hung by YOUR fireplace. There are a variety of styles to choose from, including two varieties of pink camouflage, one that looks like Santa's belly, and even stockings of gold bling. There are even stockings that read "I've been very, very, very nice" on one side but if you flip it over it reads "I've been very, very, very naughty." Which side would you have showing?
Now that you have the stockings hung, what will Santa place in the stocking? I guess it depends on whether you have been naughty or nice! Either way, I think the lodge has something that can fill those stockings! What could be more appropriate in a stocking (or a Heartland stocking) than a Heartland Lodge Gift Certificate? Gift certificates for the lodge make GREAT gifts and stocking stuffers! I noticed this past year that there were numerous references from guests, either in conversation or in the guest books, indicating they were visiting the lodge because they had received a gift certificate as a gift!
One of the nice things about giving (or receiving) a Heartland Lodge gift certificate is the number of options you have available to you. Gift certificates can be purchased for a specific room type…anywhere from a regular room at the Original Lodge to a luxury suite at Prairie Ridge to one of the romantic suites or rooms located at the newest lodge, Sunset Valley. Some rooms and suites are perfect for families (All About the View at Sunset Valley and the Angler Room in the Original Lodge) so think about giving a gift the whole family can enjoy. Is there a special couple on your list? Many of the suites and rooms are ideal for newlyweds or honeymooners (or just a couple wanting to put a little romance back in their lives.). What about that person who loves to travel or just needs to get away once in a while? Heartland has rooms perfect for him or her as well! All of the rooms and suites in all three of the lodges are decorated in their own nature-inspired theme and feature ultra-comfy, triple-sheeted beds with private baths.
Now I can certainly tell you that if you give a gift certificate for ANY room at Heartland Lodge, your gift recipient will be SUPER EXCITED! But add the meal package option to their gift and they will never forget the AMAZING gift they received! The meals are one of the most-talked about features of the lodge, next to the beautiful surroundings and the incredible sunsets. Add the meal package to your certificate and your gift recipients will enjoy made-from-scratch brunch and dinner each morning and night of their stay…and we can tell you from experience, the meals are one of the most anticipated features of our stay!
So what if you're not sure which room or package might be best for your gift? That's not a problem either
– just purchase a gift certificate in any dollar amount and your recipients can select the room or suite that best fits them. Or consider giving a gift certificate for any one of the activities available at the lodge…horseback riding, sporting clays or ATV riding…perfect for those who love the outdoors!
But that's not all! The lodge also has beautiful laser-engraved wood Christmas ornaments…these would go nicely with a Heartland Lodge gift certificate but would also work well in case you already have most of your shopping done (I don't fall into this category!) These ornaments would work well for anyone who is a fan of the lodge and would look great on your tree OR attached to the stockings hung by the fireplace!
No matter how you celebrate, where you celebrate or who you celebrate with, embrace the holiday season and everything it has to offer!! Cherish the time with family and appreciate the quiet moments. Whether you celebrate lifelong traditions during the holidays or are ready to start new ones, enjoy it! Dan and I wish each and every one of you a Merry Christmas!
Lori Biehl
Last Updated: December 10th, 2021