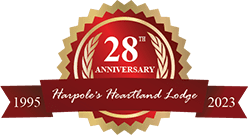 16yr old Matthew McPhillip's Memories of Hunting Whitetails in Illinois
My family and I have been coming to Heartland Lodge for 4 years now and are planning to return for a fifth. When we first started coming I was only 12 years old and wasn't even old enough to hunt. However I came with my parents hoping to see some of the monster deer we knew we were hunting in this area, which is one of the greatest if not the greatest at producing trophy whitetails. That first year and every year since we were treated like part of the family. We became acquainted with all of the guides, the staff, as well as Gary and Miss Wanda who always had funny stories to tell about past hunts, traditions, as well as insight towards the hunt we were currently on. Every year we have come to Heartland lodge we have come away with a trophy whitetail.
The first year we came away with a beautiful mature 9 point which was a great experience. The next year we came back and became even more acquainted with not only the staff but other hunters which helped make the experience even more enjoyable. We often talked or told stories at one of the big dinners that are served every night.  They are always home cooked and delicious. The second time we came was the first year I was eligible to hunt and after hunting all 3 days on the last night I harvested my first deer, a beautiful 130″ 8 point. The next year we returned with almost all the same hunters and all of the friendships we had made with the guides and staff once again feeling like a part of the family. My dad and I hunted separately for the first time and once again I sat out all 3 days seeing many deer but never getting a shot. Of course my dad sitting only 500 yards away saw deer nonstop and harvested a nice 9 point.
This year returning for our 4th year I decided I needed to get one over him so on the first morning after seeing one shooter buck already I harvested another, a 135″ 9 point, the biggest buck I had ever shot. I was very proud and constantly gave my dad a hard time about how this year I got one up on him. Despite all of this I went out with him the next day and had possibly the greatest day of hunting I will ever have.  My dad and I were together in a ground blind overlooking a food plot only a few hundred yards away from where I had harvested my buck only a day earlier. From the beginning to the end of that day we saw bucks. Eventually a shooter came into our view so I attempted to call him in. He made a scrape in a tree the preceded to come towards us with countless other deer filing in only 50 yards away. Suddenly behind him we heard a different grunt from a different large buck. After competing with this buck we watched as the shooter receded into a different field and began to fight the other buck. Never had I seen anything like this.  Two massive deer fighting just out of range. They both bedded down just out of range and we waited for them to get back up so we could have a shot. We waited until almost last light when 3 does filed into the field. Great we said, these would surely attract the shooters bedded down just out of range. To my surprise as I scanned the rest of our surroundings I spotted a massive buck coming towards us. My dad and I were so excited and shaking that he missed the first shot. After this, he shot again and dropped the deer right there. It ended up being a massive 150″ 11 pointer, the biggest I had ever seen.
The rest of the trip I received good natured jokes about how I had given my dad a hard time and now he had shown me how it was done. We've always had a good time at Heartland lodge and have made many friends and memories with people not only from all over the country, but all over the world. It is a great place to come both to have fun, and become part of a tradition of hunting some of the world's largest white tails.   Matthew McPhillips
More videos & pics of successful hunters             
Whitetail Deer Hunting Main Page                      Illinois Gun Hunts
Early Season Whitetail Hunting                           Hunting the Illinois Rut
Last Updated: November 21st, 2011