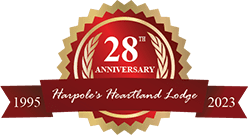 Apple Harvest Season is Here!!!
As I sit here and write this, the rain from Hurricane Isaac is falling and has been for two days.  As much as we desperately need the rain here in the Midwest, it's really too little, too late to help the farmers and their crops.  However, as I was driving the other day, I heard a radio ad for Eckert's Orchards and if I heard correctly, I understood them to say that their apple crop has come in early, due partly because of the lack of rain.
When I began researching orchards for this blog, I indeed found that some varieties of apples are available now and may be a little ahead of schedule.  So, for all of you that look forward to apple picking season, the time for harvesting apples is here and should run through mid to late October!
Each year as we head home from Heartland Lodge in Pike County, Illinois, we usually try to visit one (or more) of the apple orchards in Illinois – especially those located in Calhoun and Jersey counties, both of which adjoin Pike County to the south.  There are several apple orchards throughout both counties, some of which allow you to pick your own apples while others have roadside stands open with the apples already picked.  What better way to spend some time with your friends or family than to visit an apple-picking farm?
Dan and I try to make apple picking a part of our annual trip to the lodge and one of our favorite Illinois apple orchards just happens to be Eckert's Grafton Farm orchard – located on the hill just north of Grafton, Illinois.  The Grafton Farm was the first Eckert's location to start the 'pick your own apples' – back in 1964 – and even though we haven't been going quite as long as they've had this tradition, the rustic barn hasn't changed much.  The barn houses their 'country store' – complete with apples that have been picked for you, apple cider, jams, jellies and even salad dressings (check out the Vidalia Onion salad dressing – YUMMM!)
In addition to the barn and the tractor ride to the orchards so you can fill your own bag full of apples, they have an entertainment area for both "little" and "big" kids alike!  See my "big" kid in the pictures??  Even though we don't have kids of our own, we can still be kids at heart.  Thank goodness Dan is a good sport!  But what kid – little OR big – wouldn't want to feed some farm animals, watch the goats play, or swing on an old-fashioned tire swing?  There is even a miniature golf course if you're in the mood for a round of golf.  But you'll probably work up an appetite after picking apples or playing miniature golf so be sure and enjoy a funnel cake before you leave.  Pony rides are available on Saturday's and Sunday's and if you're really adventurous, go for a camel ride!
Eckert's even has special promotions and coupons each month as well as their Apple Fest, scheduled for later in September.  Apple Fest activities include wagon rides, music and live entertainment, great festival foods and children's activities.  With Eckert's being within driving distance of the lodge, plan to spend the day at the orchard before heading back to the lodge for dinner and the hayride.  Just think of the memories you'll be creating!
Now that you've picked your apples, are you going to make a homemade apple pie, apple dumplings or applesauce?  One of our favorite apple pie recipes is for a Deep-Dish Apple Pie.  Dan and I have enjoyed this style of apple pie for several years and it's even become a hit at our line dance club snack night.  Unfortunately, there's just not always enough to go around – which is a complement to the baker (me!)  I also enjoy homemade applesauce and even though I don't have a tried-and-true applesauce recipe that I use, I always end up with a good batch of applesauce.  I start with cooking my apples, running them through a Foley Mill (yes, I still use mine) and then adding cinnamon.  I might add a little bit of sugar depending on how tart the apples are, but I really like a strong cinnamon flavor, so I add it and keep tasting it until I get it right!
With our annual trip to the lodge coming up next week, we are looking forward to stopping and getting some apples on our way home.  We'll take a drive down the Great River Road on into St. Louis or we'll swing back up through Grafton and catch the Brussels Ferry – who knows where we'll end up?  That's half the fun – taking the day to drive & explore!
So, as you plan your family outing, think of going apple picking.  Enjoy Mother Nature at the lodge, go pick some apples and then share the memories.  What is your favorite memory of apple picking?  The tractor ride?  Spending time with family?  Baking your first apple pie?  Whatever your favorite memory is, take the opportunity to make more!
Lori Biehl
Thirteen-Year-in-a-Row-Guest
Last Updated: September 2nd, 2012