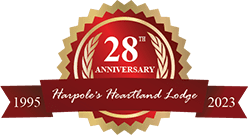 Here Comes The Bride…
…and the groom and the rest of the wedding party!  And they're coming to Harpole's Heartland Lodge for the perfect destination wedding location!  I'll be honest – I've never been to a wedding at the lodge, and I sometimes think that had Dan and I learned about the lodge before we chose our wedding site, WE might have gotten married at the lodge (but there are always vow renewals.)
The Perfect Wedding Venue in Central Illinois!
If you are recently engaged and are beginning to plan your wedding, think about the type of wedding that YOU want to remember and cherish.  Do you want an intimate, romantic wedding with a small guest list?  Or are you looking for a venue that will accommodate a larger crowd with some fun thrown in?  Based on the wedding photographs on Heartland's web site, I think the lodge would be the ideal setting for your special wedding day!
Now I'm not typically known as a romantic, but I can certainly envision a wedding in front of the roaring fireplace in the Great Room of the original lodge.  Use the hardwood staircase for your wedding party to make their entrance to your wedding ceremony – and then use it as a perfect setting for one of your wedding photographs.  The rustic décor of the original lodge certainly appeals to my 'earthy' side and if I were getting married today, I can't think of planning my wedding anywhere else.
It's probably a little easier to find a cozy, intimate setting for a romantic wedding but where else can you find a location with the unlimited options for a large traditional outdoor wedding?  If you are an outdoorsy person and love nature, then consider some of the outdoor wedding ideas that the wedding coordinator at the lodge can suggest.  Take advantage of the picturesque settings in planning your outdoor wedding ceremony – you can hold your wedding on the massive wrap-around deck of the new lodge, under an arch on the lawn next to the new lodge or even on one of the ridges overlooking the beautiful countryside.  Just imagine the outdoor wedding pictures that your wedding photographer will be able to capture!
Planning a wedding certainly takes a lot of work and time but why not have fun with it and consider a themed wedding?  The lodge gives you the perfect backdrop for a variety of options.  If hunting is your passion, dress your wedding party in camouflage wedding attire and have a hunter wedding.  Horseback riding more your style?  A country wedding might be more your style – complete with western shirts, cowboy hats & boots!  You could even bring your horses and get married on horseback – how fun would that be?  If you love riding ATV's, incorporate them into your wedding.  Use your imagination – the options are endless!
Outdoor Wedding in Illinois!?
Thinking more of a seasonal wedding?  Again, the lodge would be the ideal location for a spring wedding with the leaves filling the trees, the flowers in bloom, and the birds chirping in the background.  A summer wedding could be complemented with more casual wedding attire – I could even see myself getting married barefoot!  The backdrop would be filled with amazing color if you decided on an autumn wedding – imagine a harvest setting for both your wedding and reception.  Even though a fall wedding would be gorgeous, a winter wedding – complete with a dusting of snow – would have to be the perfect fantasy wedding.  A roaring fireplace, snow falling, the holiday decorations – what better way to celebrate family at Christmas than by bringing two families together?
One of the appealing things about holding your wedding at the lodge would be having your wedding reception there also.  The lawn and reception hall at the new lodge can become the perfect wedding reception site – complete with dance floor.  And if you've ever been a guest of the lodge and enjoyed the mouth-watering meals, then why wouldn't you want the same food for your wedding guests?  The staff at the lodge would be happy to work with you to plan the perfect experience, right down to the wedding reception menu.  Imagine the toasts to the bride and groom taking place in a beautifully decorated setting – maybe with a breathtaking sunset as your backdrop!
With all the options available at the lodge, they can also handle all the pre-wedding festivities – including your bridal shower, bridesmaid's luncheon, and rehearsal dinner.  If your family and friends are spread throughout Illinois, Missouri, Iowa, Indiana or Wisconsin, this is an ideal way to include everyone in the fun – you can even book one or both lodges depending on the size of your group.  Once your wedding is over and you are husband and wife, enjoy the fun and don't worry about leaving for your honeymoon.  Enjoy your honeymoon at the lodge in the privacy of one of their luxury suites.  Spending our honeymoon at the lodge was where it all began for Dan and I – a tradition that has continued for 13 years!
Whether you are a young couple just getting started or someone more our age that has found love 'the second time around', I know there are many couples that have begun their married life at the lodge.  What was your favorite memory of your special day?  What made Heartland perfect for your special day?  I'd love to hear from you! More wedding information>>
Lori Biehl
Thirteen-Year-in-a-Row-Guest
To inquire about having your wedding or wedding reception at the lodge this year, please contact our wedding coordinator at 217-734-2526 today!
Last Updated: December 27th, 2022