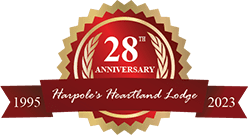 Hit the ATV Riding Trails This Summer!
"Some Like It Easy…Some Like It Rough" is the new motto for ATV riders at Harpole's Heartland Lodge.  Now I have to be honest – in all the years that Dan and I have been going to the lodge, we have never ridden ATV's.  We always go horseback riding but we have decided that this year, we need to change things up a bit and check out the ATV trails (obviously, WE will be in the "Some Like It Easy" class.)
An all-terrain vehicle (ATV) can come in varying styles and sizes and are also known as a quad, quad-bike, three-wheeler and probably the most popular, four-wheeler.  Many people consider riding ATV's a fun, exciting recreational activity – the four-wheeler is easy to use and can be a great way to enjoy the outdoors.  Although an ATV can be street legal in some countries, it is NOT street legal in the United States which makes ATV parks and riding trails extremely popular for both individuals and groups dedicated to ATV riding.
ATV trail riding has become a hugely popular activity at the lodge – regardless of your skill level.  Nestled between the Illinois and Mississippi Rivers, the lodge and surrounding property offers some of the best ATV riding trails in Illinois and Missouri.  Check out the terrain – open fields and prairies, hills, forests and creeks – literally something for everyone – and I do mean everyone!  For the beginning rider, hours can be spent riding the main trail through out the riding park.  And for advanced riders that are looking for a challenge and like to get dirty – check out the timber trails and special "Mud Holes."
The terrain won't be the only thing you'll enjoy – an abundance of wildlife, including Whitetail deer, turkey, quail and pheasants can also be seen on many of the ATV trails.  Coming from a horseback rider – you don't need to worry about your four-wheeler spooking if you stir up a deer!  And when you're finished with your ride, come back to the lodge, sit on the deck and enjoy the loads of birds around the lodge (check out the blogs on Hummingbirds and Birds of Illinois posted in May.)
If you are an overnight guest at the lodge – and are enjoying the other wonderful amenities the lodge has to offer – make plans to take in the ATV trails and park.  You are welcome to bring your own ATV – there is even a special area to load & unload your four-wheeler during your stay.  And guess what?  Your comfortable room at Heartland will be located on the same property as the four-wheeler trails – talk about convenience.
Don't own an ATV?  No problem!  Heartland has ATV's available for rent during your stay (certain rules do apply so inquire when making reservations).  And speaking of reservations, you might want to make them when you are making your room reservations.  I hear that many times, the ATV rentals are sold out so advance reservations are strongly recommended.
Did you know that you could also enjoy the ATV park and trails at Heartland for just the day?  Day passes are available if you only want to ride for the day – and since there aren't many ATV parks and trails in Illinois or Missouri – this is just the answer.  Once you ride the trails here, you'll definitely be back for more!  And whether you ride for the weekend or just come for the day, maps of the ATV trails are provided upon check-in.  I won't guarantee that you won't get lost but take a chance and head out for a great ride.
Individuals, families and ATV groups looking for a great weekend getaway with a place to ride are finding the lodge the perfect place to stay.  Enjoy the trails, the food, the beautiful countryside setting with all the wildlife and you will be building memories that will last a lifetime.
Speaking of lifetime memories, Sunday, June 17 is Father's Day – and what a great gift for dad!  Plan a weekend getaway (grab a gift certificate) or load up the four-wheelers and come for the day.  Spend the day riding with Dad and you and the kids will be giving Dad exactly what he wants.  If the trails aren't enough, wrap up a shirt from the lodge – "I Rode The Trails at Harpole's Heartland Lodge…Some Like It Easy…Some Like It Rough."
And finally, this blog is dedicated to my father, whom we lost several years ago.
Lori Biehl
Thirteen-Year-in-a-Row-Guest
Last Updated: June 15th, 2012