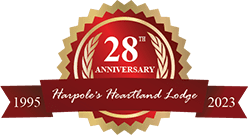 Let's Go Shopping at The Farm!!
Every now and then, I'll talk to someone, and they'll say that they're going to the farm for the weekend. And during the fall, when it is harvest season, we think of all the work that the farmers do on their own farm. My mom's family will be gathering on their farm in October. But what if I could tell you that you can also go shopping at the farm? Well, guess what? You can!
If you enjoy antiques, primitives and home décor, then *The Farm* is a shopping experience you won't want to miss during your stay at Heartland Lodge. Located approximately 20 minutes east of Pittsfield on the Hillview Blacktop, it's easy to find and would make a nice little stop when you're in town for lunch.
I first experienced *The Farm* with a friend earlier this summer and was so intrigued with the place that I went back and spent some time with Amy Duncan…Amy owns *The Farm* with her husband, Tim. Together, they have built up quite a following over the years.
I'm sure you all know the saying "don't judge a book by its cover"…and this is certainly one of those times to reserve judgment. Now don't get me wrong…Amy and Tim have built a very nice shed on their property and have decorated the exterior with many of their antiques and primitives that may also be for sale. However, when you step indoors, you will feel like you've stepped into another world! The interior is filled with all the items that they have become known for…candles, furniture, antiques, primitives, linens, and even handmade signs…the list goes on and on!
Amy has belonged to a craft guild since she was a teenager and has always set up at craf
t shows and fairs. When she and Tim first began their business, they were in a storefront in Carrollton, IL. They moved to their current location in December of 2011 and opened the expansion to their space in February of this year…increasing their floor space by 44%!
They began selling primitives about seven years ago as they learned that primitives were definitely in style in the area. And when asked what their best-selling item was, she indicated that it is really split right down the middle between legitimately old items and new items. They also make and sell name signs – anything from town names to last names and anything in-between. She & Tim also enjoy redoing old pieces of furniture and building new items…and their inventory is proof of that!
One of my favorite things about Amy's store is the variety of candles that she carries…four different candle companies are represented! And she tries to buy locally made products when possible. One of her candle lines is made in Mason City, IL and includes candles with names and labels to remind you of earlier days, melts, room sprays and even dipped light bulbs. If your décor is primitive, then you will definitely want to check out these candles!
*The Farm* is located at 414 Hillview Road, Winchester, IL (the locals call it the Hillview Blacktop) but don't let the Winchester address throw you off course…you literally take Hwy. 106 east out of Pittsfield for approximately 15 miles to right on Hillview Road (also known as the Illinois Great River Road). You will find *The Farm* approximately three miles south on your left-hand side. Their weekly hours are Thursday & Friday from 10:00 a.m. – 5:00 p.m., Saturday & Sunday from 10:00 a.m. – 3:00 p.m. You can also follow them on Facebook at *The Farm* or contact them at 217-742-5050 if you need further information.
So in addition to their regular weekly hours, what can you expect from them yet this fall & winter? They schedule many special events throughout the year but you're in luck – there are still a few events to take advantage of. On Saturday, October 11th, Amy & Tim (and several helpers) will be holding their first ever Harvest Festival. Yes, this is a new event and is full of fun things to do and lots of shopping! There will be outdoor vendors set up in the orchard, new items in the shop, pumpkins & gourds for sale and more! You can even tour their 1840 log cabin which they have been in the process of restoring. Amy's reminder here is to bring lots of cash as most vendors do not accept credit cards.
So now that I've wet your whistle for some shopping, what's a person to do? I can think of a few things but right there at the top of the list is this – take advantage of Heartland Lodge's extended resort season by booking a room at either Prairie Ridge or their newest lodge, Sunset Valley. With *The Farm* being just a short drive from the lodge (and a pretty drive), plan a beautiful fall day to do some shopping – for yourself, for gifts, for your home – and let me know what treasure you come home with!
I thoroughly enjoyed my time talking with Amy and learning of the history behind *The Farm*. I want to thank her for her hospitality and for sharing a little bit of herself with me. It's people like her that make this part of my life fun!
Lori Biehl
Twenty (+) Year in a Row Guest
Last Updated: August 19th, 2019