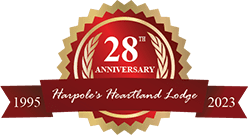 Romance is in The Air!!
January 23, 2023- Santa's elves are glad that Christmas is over (at least for 11 more months)…and the New Year's Baby will have to wait to ring in the next new year.  So, I think Mother Nature and Cupid are teaming up…and are wanting you to celebrate the winter months with your sweetheart!
Now I can just hear all the moans and complaints about the winter weather that we have had…not only here in the Midwest but across a large portion of the country.  It seems like we've had snow on the ground more often than not…and along with the below-freezing temperatures and wind chill…the snow doesn't melt very quickly.  So, what are you to do when the weather forces you to stay indoors and rethink your winter activities?  I think I've got just the thing…and no complaining allowed!  Why not plan a getaway to Harpole's Heartland Lodge and enjoy the romantic setting this beautiful lodge can offer?
Romantic fireplaces, triple-sheeted king-sized canopy beds and private Whirlpool tubs can all be found in one of luxury suites located in both the lodges and cabins.  Aromas of made-from-scratch dinner wafting through the air indicate the amazing meal that is about to be served…but be sure and leave room for dessert!  And don't forget about brunch the next morning!
Are you trying to impress that special lady in your life?  Wanting to show that special guy a great weekend?  Many people enjoy doing something special for their 'special someone' on Valentine's Day. Just consider a romantic getaway to Heartland Lodge! I'm confident that your 'special someone' will thank you for your thoughtfulness.
But Valentine's Day shouldn't be the only time you focus on the romance in your life…even though the day does prompt most of us.  If your schedule doesn't allow you to get away for Valentine's Day, your gift could simply be a gift certificate to the lodge for another time!  Attach the gift certificate to a bottle of wine or a piece of jewelry and you've got a gift anyone would love!
You truly never have to leave the lodge…or your suite…for the ultimate in a romantic getaway!  Enjoy the warm fireplace, take a Whirlpool bath (or two), take a nap in the luxurious triple-sheeted king-sized canopy bed, read a book, and then take another nap!  Enjoy the comfy chairs while enjoying a glass of wine and just simply…spending time with that special someone in a room that was built for romance!  Heartland Lodge truly will put the "heart" in your romantic stay!
ROMANCE IS IN THE AIR!!
Can you believe that the first month of 2023 is almost behind us!?  And now, February is just around the corner!  February brings with it thoughts of Groundhog Day and the hope of spring as well as the birthdays of two of our most famous Presidents, George Washington and Abraham Lincoln.  Many also celebrate the Chinese New Year and Ash Wednesday during the second month of the year.  But we all know that Valentine's Day is probably the most popular holiday of the month.
So, what does Valentine's Day mean to you?  Are you a romantic at heart?  Do you picture cupid with an arrow…ready to shoot through the heart of the one you love?  Sending a bouquet of roses to your loved one?  Surprising her with a romantic dinner?  Giving him a heart-shaped box of chocolates?  Certainly, all of these are great expressions of love, and any person would be thrilled to be on the receiving end of these Valentine's Day gifts.
So, what can you do for Valentine's Day that will show your true love just how much they mean to you?  Why not take it one step further and celebrate your love at Harpole's Heartland Lodge?  Heartland Lodge is a premier Illinois bed and breakfast and has warmed the hearts of many guests throughout the years.  It is beautifully situated in the rolling hills of the Mississippi River bluffs in West Central Illinois…and what could be more romantic than making the lodge part of your Valentine's Day date?
Let Cupid's arrow direct you to the Whitetail Suite in the original lodge or one of the seven luxury suites in the new lodge.  All of the suites feature a triple-sheeted king-sized canopy bed, fireplace and Whirlpool tub with private entrances to the expansive wrap-around porches and decks.  The luxury suites, located in the new lodge, are all decorated with a nature-themed décor and also feature a pair of comfy chairs to relax in as well as a daybed.  What could be more romantic than snuggling up with your loved one in front of your own private fireplace with your favorite bottle of wine?
You could also enjoy the fireplace in the Dining Hall while waiting for the wonderful dinner that is being prepared for you.  Enjoy the aromas of the made-from-scratch meals as you spend time with the one your love.  And if my experience with the desserts at Heartland is any indication, you'll be treated to a delectable Valentine's Day dessert that is sure to please.
After dinner, you can relax in front of the fireplace or soak in your private Whirlpool tub.  And the next morning, be prepared for a brunch that will match the previous night's dinner in taste and presentation.  Think about it…two mouth-watering meals, a cozy room with fireplace and Whirlpool tub, a luxurious triple-sheeted king-sized bed…what better gifts for Valentine's Day?  No dishes, no making beds and lots of peace and quiet while enjoying the beautiful setting of the lodge.
And it really doesn't matter if you're a romantic or not.  The lodge offers the ideal setting for those seeking some rest and relaxation or someone looking for a little fun and adventure.  Imagine trading in Cupid's arrows for a gun on the sporting clays course or jumping on an ATV and exploring the 1,200 acres surrounding the lodge.  Either way, you and your loved one are bound to find something that will add a little spark to your Valentine's Day.
Purchase a Valentine's Day Gift Card Here >>
Lori Biehl
20+ Year in a Row Guest
Last Updated: January 23rd, 2023