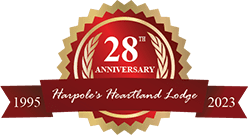 Spring has Sprung!!
We've kicked Old Man Winter to the curb and are anticipating the rites and rituals of the upcoming spring months. Are you as ready for spring as I am?
When you think of spring, what comes to mind? Green grass? Blooming flowers? Easter? Spring break? Regardless of what spring means to you…I would bet that some type of outdoor activity is involved! And I am right there with you…horse racing begins at Fairmount Park. Many of the local dirt tracks, go-kart tracks and drag strips are announcing their schedules. You can find a color run or 5k almost every weekend! And the county and state fairs are beginning to announce their summer entertainment lineup! You can definitely tell that everyone is ready for spring and everything that goes with it!
So many of you may be on spring break this week or next…or maybe your kids are on spring break. Don't have plans? Be spontaneous and think about a trip to Heartland Lodge! I previously wrote a blog about summer vacations…and how it's never too early to plan them. But it's also never too late to plan a last-minute getaway to enjoy the spring weather! Take advantage of the warmer weather and plan a trip where you can definitely take in the outdoor activities the lodge has to offer.
Dan and I h
ave been going to the lodge now for 18 years…and I still have people ask me what there is to do at the lodge. I told someone just the other day that it depends on what you're interested in. If Dan and I go for just one night, we enjoy the activities around the lodge…and at the top of our list is horseback riding. Sometimes, we'll ride on the afternoon of our arrival and then again after brunch the next morning, but we are always headed out for at least one ride during our stay. But horseback riding isn't the only outdoor activity to enjoy. You can explore the Heartland property on ATV's (bring your own or rent one from the lodge) or shoot a round of sporting clays. And if morel mushroom hunting appeals to you, the lodge can be a perfect place to find the spring treasure. After a day of activities and a wonderful, made-from-scratch dinner, you can enjoy the scenic sunset hayride (we haven't missed one in 18 years) and an evening around a roaring bonfire – complete with s'mores! And even though you won't be hungry by morning, get ready to enjoy the wonderful brunch which is just as good as the dinner t
he night before!
But on those occasions when we can spend a couple of nights at Heartland, we'll take part of the day and explore the local area and community. We enjoy antique shopping but you may want to check out the local golf courses, wineries, or even some of the local history that surrounds the lodge. You could enjoy Abe Lincoln's Talking House Tour in Pittsfield. Check out one of my first blogs about exploring the back roads and adding in history. Maybe after reading the blog, you'll want to retrace my steps into Pittsfield. And if time allows, you may even want to check out the Barn Quilt Tour in adjoining Calhoun County. From Pittsfield to Alton to St. Louis…from Springfield to Quincy to Hannibal, I'm pretty sure you'll find something to your liking! Just go have fun!
Spring is even beginning to have special meaning at Heartland. A few years ago, April brought the opening of Sunset Valley, one of the lodge's new addition to its lodging accommodations. Sunset Valley has opened up possibilities for groups, families, and the romantic at heart. The next April brought the opening of Heavenly View, a luxury cabin nestled on 50 private acres with an incredible view of the Mississippi River valley. With the ability to sleep from 2 – 10 guests, this cabin will be ideal for couples or families. The Private Luxury Cabins opened in May a few years ago and guess what! This spring will be no different…Heartland just opened up the Quail Ridge Cabin! You'll want to check it out…and book your reservation today! And with The Original Lodge and Prairie Ridge Lodge as the backbone of Heartland, I am confident you will find accommodations perfect for your getaway!
Now that spring has officially arrived, get ready to take advantage of the longer days, blue skies and sunshine, warmer temperatures. Spring officially has 92.76 days and summer begins on June 21 so I'm ready to soak up the sun before the summer heatwave hits. Are you as ready as I am?
Lori Biehl
Eighteen-Year-In-a-Row Guest
Last Updated: April 7th, 2023