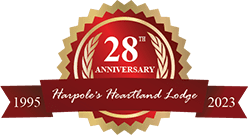 The Circus Wedding Came To Heartland
This past weekend the lodge was host to a beautiful vintage style wedding.  The bride and groom were Paige Tharp and Brad Ruble. 
They placed a big white tent behind the New Lodge and the ceremony chairs were placed beyond the tent.  Inside the tent were big circus-style banners hanging from all sides.  The tables were covered with circus-style decorations.  Surrounding the tent were vintage signs pointing different directions, instructing the guests where to go.  There were big colorful sparklers the guests could play with, and a peanut stand for everyone to enjoy peanuts at the circus. 
The wedding ceremony was lovely.  All the guests were asked to participate by answering questions in regard to how they knew the couple.  This was followed by Brad and Paige exchanging vows they had written themselves.  The bride wore a white vintage gown with red shoes.  Her mother wore a bright purple dress, matching the design of the bride's gown.  The bridesmaids wore knee length black dresses, and hair pieces with old-style black netting.  The ring bearer, dressed in a little suit, walked in front of the flower girls.  The three flower girls wore off-white dresses with flower bows at the waist and flower bows in their hair.
The reception was a night of entertainment.  The guests enjoyed a magic show consisting of fire eating acts, guests floating in the air, an Elvis impersonator, and Paige singing to her friends and family. 
The wedding and reception made for a fun night for all who attended!
Wanda Harpole
Last Updated: September 16th, 2012