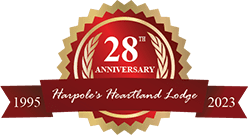 Wildberry Picking Weekend at the Lodge!
We have designated July 14th-16th Wildberry Picking Weekend at the lodge! This is during the peak times for blackberries and raspberries. We will have a guide take you out on our hay wagon for 2 hours Saturday morning (10:00 – 12:00) to our blackberry and raspberry hot spots!
Enjoy the following activities at the lodge over the weekend:
Corn hole games (FREE w/lodging)
Hiking (FREE w/ lodging)
Bonfire w/smore's (FREE w/lodging)
Fishing (FREE- will need an ATV/ UTV to access fishing ponds)
Pistol Range (FREE w/lodging)
ATV/ UTV Riding (1,200 acres of riding!)
Water, soda, candy, and ice is available at the Snack Shack all weekend long!

An old fashion summertime meal will be served Saturday evening for those who purchase the meal plan (please reserve at the time of booking). It will include the following:
BBQ RIBS
BAKED BEANS
CORN ON THE COB (SWEET CORN)
POTATO SALAD
TOMATO/CUCUMBER SALAD
CORN BREAD
BLACKBERRY COBBLER
Check on Available Lodging Options July 13th-15th Here >>
---
Wildberry Pickin' Traditions at the Lodge..
"When I grew up blackberries were a special treat during the summer months.  I would look out the window and see my Grandpa George with a bucket, on the hottest day of the summer, going to pick blackberries.  He was in his nineties. We made cobblers, pies, but my favorite was blackberry dumplings. Grandma Nellie would make blackberry juice and on New Year's Day Grandpa would bring us a jar of the precious commodity.  This was to bring us good fortune with plenty of food for the coming year. Sometimes when we were sick, Grandpa George would bring us a jar of the blackberry juice to help us get better.   Also, many stories have been told about their buckets being full of berries."
-Wanda Harpole
---
Wildberries are not just good to eat, they are good for you too!
Did you know these wild berries are a very healthy fruit high in fiber and vitamin C?  When picking them it is key to only pick the ripe one's which are almost black in color whereas the unripe blackberries and raspberries will appear red and will not ripen once picked. If you are a serious berry picker and pick more than you can eat, you can freeze them in freezer bags for future enjoyment.
You can make Reservations Online Here or call 217-734-2526 for more details today!
Full List of Activities & Amenities >>
Last Updated: June 7th, 2023