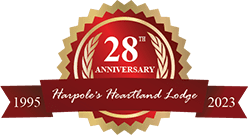 Upland Hunters Welcome Letter
Thank you for booking your upland hunt with us! I'm sure you are excited to hunt pheasant and quail at the lodge. I want your hunt to be everything you expect! I have learned from outfitting for over a quarter century, that expectations can vary greatly from one hunter to another. The information I am sharing in this series is the knowledge I have gathered from our hunters that will help provide you with the best possible experience at Heartland Lodge.
Expectations range from the hunter who is looking to enjoy time spent in the great outdoors to someone who wants to have the most shot opportunities possible. One of the reasons you may have booked your hunt is to experience and reminisce on the traditional upland hunt. Enjoying the comradery of your fellow hunters and enjoy watching well-tuned dogsmanship.
I care about your experience with us and want your stay to be everything you expect. Please take a minute to read the information I provide. It is years' worth of knowledge, passed down from generations of passionate wingshooting clients and guides. I hope you enjoy a hunt at the lodge this season, regardless of the number of birds harvested.
Sincerely,
Gary
Gary Harpole
Harpole's Heartland Lodge
217-734-2526
Last Updated: October 19th, 2023