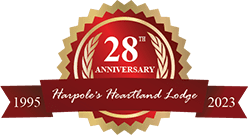 What is an Orvis Endorsed Wingshooting Lodge?
Sometimes the last time we headed out across the prairie behind the dogs in the early morning sunlight in search for coveyed-up quail or cock pheasant on the edge of the field has been just too long ago. Maybe it was last weekend, last month, or even many seasons ago. No matter the time frame, there is not a better time than now to gear up and head back out; let the peace of mind that comes with an Orvis Endorsed Lodge help you plan your next wingshooting hunting experience. By choosing an Orvis Endorsed Lodge all you will have to do is show up and have a great time!
The Orvis-Endorsed Wingshooting Program
Before the internet made it easier (or in many cases harder) to find a world-class wingshooting lodges to spend your next hunting trip with, "Orvis embarked on a mission to make planning a world-class wingshooting adventure easier. They found a unique way to do this by creating the Orvis-Endorsed Program. Orvis wanted to sharpen your sportsman's senses with a memorable wingshooting trip," get you back in the game with a peace of mind knowing that the trip would be the best of the best. (Orvis.com)
The Orvis endorsement ensures that you will have great service, respect for natural resources, and an experienced, professional staff. With Orvis as your guide, you can rest assured that your next wingshooting experience will be one to remember. As you search the thousands of options out there you will note that less than twenty-five (25) that meet the standards that Orvis sets for their endorsed wingshooting resorts.
Planning an Orvis-Endorsed Upland Hunt
Orvis plans your entire trip around your passion for bird hunting. You'll find thoroughly tested and approved hunting lodges in 20 states with varied offerings for you and your family or hunting companions. These are establishments visited time and again and continue to meet the highest standards that come with the Orvis name. You will find packages for the seasoned wingshooter, no stranger to long days exposed to the elements and always prepared for the unexpected, to all-encompassing hunting lodge packages with trap, skeet, and sporting clays courses, instruction for novice and skilled shooters alike, and superior guidance in the field. You will awaken early, spend much of your day outdoors, and return to well-appointed quarters for top-shelf libations and chef-prepared cuisine that often reflects the culinary traditions of the region.
Harpole's Heartland Lodge
is honored to be recognized as an Orvis Endorsed Wingshooting Lodge. Each endorsed lodge has its own character, but all share the same high standards: great service, wingshooting, and an experienced, professional staff. According to Orvis's Wingshooting Services Manager, Reid Bryant, "hands down the top lodges strive to make a stay at their properties an experience of a lifetime." These standards of excellence are continually reviewed by the Orvis staff and evaluated by visiting guests in post-visit critiques sent directly to Orvis.
As one of less than twenty-five Orvis Endorsed Wingshooting Resorts in the world, Harpole's Heartland Lodge is the perfect example of what Orvis has been known for over the last 150+ years.
Clint W. LaFary
For more information on our Orvis-Endorsed Upland Hunts, follow the links below.
Wild Quail Hunting          Pheasant Hunting Packages
Last Updated: September 7th, 2022