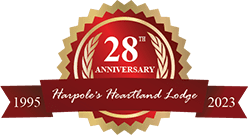 Take your children quail and pheasant hunting!
An upland hunt from the archives with Roger Keller:
The trees are turning their orange, maroons and yellows as they always do, I never get tired of seeing this happen while guiding for the lodge.  It's always a special time of year, as we witness the winding down of summer and beginning of autumn.
The weather was on the warm side for upland bird hunting, about 80 degrees, and the dogs required periodic rest and water to keep them comfortable.  I had the perfect example of what I have been blogging about for the past two months, which has been to get kids involved in hunting and letting them enjoy the day with you.  My client was a pleasure to be out hunting with; he brought his wife and their children, a little girl (about 4 years old) and son (about 8 years old) to spend Friday and Saturday night.  His arrangements included a morning and afternoon upland bird hunt on Saturday.  I met him and his wife and kids at the lodge in the morning and while the girls stayed behind, I took father and son out to hunt.  When we got to the field, I noticed that the boy had a good pair of boots on, long pants of course and a short-sleeved shirt over a long-sleeved pull over shirt.  He was dressed for the occasion and ready to go.  His dad helped him get his blaze orange vest and cap on.  He was ready.  Dad was ready, the dogs were ready and so was I.  Within a few moments the dog locked up and we flushed a pheasant.  Dad was shooting a 28 gauge over and under.  He was a terrific shot, 1 shot and 1 bird down and in the bag.  During this time the boy, he was not carrying a gun, was very interested in all that was going on.  He was quite but watched intently.  He knew that his place was to walk along, behind or beside his dad and watch the hunt.  He was having a really good time.
As the hunt progressed, more pheasant and quail were found, more shots were fired, and he seemed to enjoy the whole process almost as much as his dad did. We talked and he was part of the team, we were all hunting buddies in very short order.  We went back to the truck to switch out dogs and get something to drink, water was his choice.  Then of course we needed to have something to keep up our energy, so we all had a mini-Snickers bar or two.  He thought this hunting stuff was pretty much fun.  We finished the morning hunt, and we went back to the lodge for lunch.  I must say that this little boy was just fun to be with.  He was somewhat on the quiet side, but you could tell that he was taking in all that happened and was really enjoyed the morning out with his dad.  Dad at the same time was easy going and did not push his son, he just let him enjoy the day with no pressure whatsoever.
After lunch, I picked dad and son up again. I thought perhaps the boy would stay back with his mom, but he wanted to go out again with dad.  Mom and sister, I was told were going to an Apple Festival in a town nearby, so they were going on their own adventure together.   We went to a different area and hunted into the afternoon.  After one trip back to the truck the boy decided to stay at the truck, sit on the cooler and play Angry Birds.  Dad was good with that, and we could watch him sitting in the shade while we made another round.  We had a great hunt, harvested a number of birds and the dad seemed to really enjoy the day.  When we were done, we went back to the truck, and I asked the boy how his day was.  He said he liked everything just fine.  I asked him if he ate any candy bars while he was at the truck, he said oh yes, 3 or 4.  I said that was fine, they are very small after all.  Of course, a guy has to keep his energy level up during and after a day in the field.
The hunt was over, the day was coming to a close and I felt a great deal of satisfaction knowing that at least one dad had taken his young son hunting and they created memories that will last a lifetime.  Hopefully they will come back, maybe many times and at some point, maybe, just maybe the son will take his dad hunting.
Roger Keller
Roger@Heartlandlodge.com
Main Upland Bird Hunting Page
Pheasant Hunting Page
Quail Hunting Page
Last Updated: October 25th, 2022