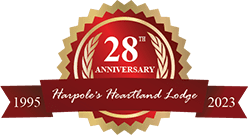 Choosing a Deer Outfitter
Determining how to choose a whitetail hunting outfitter can be a hard task! Going on a guided deer hunt can be a wonderful experience. It's possibly a trip of a lifetime that you only get to do once. Or it can be something that you start a tradition and want to return year after year, possibly with friends and family. But a sure way to get off on the wrong foot is by choosing a deer outfitter that ends up being a nightmare.
I have been in the outfitting business for over 23 years and have heard many horror stories. My guide didn't show up, the food was terrible, 6 of us slept in a trailer with leaks, my guide harvested a deer bigger than I did, etc.  To avoid some of these problems I have listed a few key points to consider when booking a trip.
First, don't go by what they have on their web site. Many outfitters post pictures of their friends, neighbors, uncle's and even sometimes aunt's deer. This is ok, if they tell you upfront where they came from, but most of the time they try to pass them off as deer clients harvested.
Even though you say you could sleep in the back of a truck as long as the hunting is good, if it rains for five days you may take that statement back. So make sure to ask them what the lodging is like and meals. Frozen pizzas each night will get old fast. To harvest trophy whitetails you have to be at your peak. If you are fatigued, it may make between harvesting the buck of a lifetime or missing out on the opportunity.
Yes, believe it or not many deer outfitters let their guides hunt the same land that you will be hunting. If this happens avoid these outfitters like the plague! It's ok if they allow them to hunt after all the paid hunters are done at the end of the year but if they are hunting while you are, it's a major conflict and he could be taking home your buck!
Check references.  This sounds simple but most won't take the time to do it. Get a least 20 references and ask for at least 10 of them that were not successful in harvesting a deer. Also ask them the name of hunters who have hunted with them for at least 3 hunts/years. If they don't have repeat clients then you want to avoid them.
Ideally you want your whitetail outfitter to be in business for at least ten years. If they have made it ten year they must be doing something right. But this still does not guarantee they are the best option.  If they have been in business less than ten years and you want to hunt with them, make sure everything else checks out. You have to go the extra mile if they are a new whitetail outfitter.
I would strongly suggest purchasing trip insurance to protect you if your outfitter would go out of business, or you had a serious illness.  Normally trip insurance runs 3%-5% of your hunt cost, but in today's economic climate I feel it's a wise investment.
There are deer outfitters that meet all the criteria above and can make your experience a very pleasant one. But take a little time on the front end to make sure you experience is everything you want it to be.