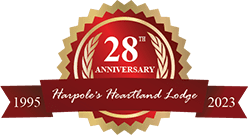 Country Roads + Little Bit of History = Great Weekend Getaway!
Are you looking for a great little weekend getaway where you can explore the countryside while adding in a little bit of history?  Well, look no further than Harpole's Heartland Lodge, nestled in the countryside of Pike County, Illinois.  Have I peeked your curiosity?  I hope so!  Let me explain!
Since I began writing these blogs, Gary and I have communicated solely through e-mail, with the exception of one phone call in the beginning.  So, I decided to take a day and pay a visit to Gary and Wanda at the lodge.  It was a little odd walking into the lodge and knowing I wasn't staying the night – but despite that fact that I wasn't spending the night, I certainly felt like I was home.  I spent some time with Wanda discussing the wonderful meals that are served at the lodge – watch for the next blog and I'll fill you in on what I learned.  I then spent some time with Gary going over some of the nitty gritty of the Internet – I promise, I won't bore you.
When I left that afternoon, I decided to explore the countryside a little and check out a couple of the things listed on the Pike County, IL Top 10 Vacation Ideas.  Now there are many things to do on Heartland's Top 10 Vacation Ideas, but I can't cover them all in one blog – sorry.  So, I chose a couple of things that I wasn't familiar with (and added a couple of my own.)  I picked up a copy of the 'Directions from Heartland to Pittsfield' – available at the lodge – and headed out the door.
After following the directions into Nebo, I took a little detour.  I wanted to go check out #5 on the Top 10 list – the Twin Culverts located just two miles southwest of Pearl.  Believe it or not, Dan and I had never seen these so to get there, I followed Vin Fiz Road, also known as Highway 10, out of Nebo until I came to 467th Street (yes, the country roads are actually named streets here!)  Gary told me that I needed to turn right on the last gravel road before the two-lane road and that most people miss it and have to turn around.  Well, he was right!  So when I turned around, I made a note of the street number so I wouldn't miss it again.  I turned left on 467th Street (keep in mind I had to turn around so I was heading in the opposite direction) and followed the gravel road back through farms and homesteads until I reached the culverts.  A couple of times, I thought I might actually be in the wrong place but patience pays off – the culverts soon appeared on my left!
According to what I have read online, the Gulf, Mobile & Ohio Railway Company constructed these grades through the hillside.  A huge arched stone culvert, constructed of limestone, sits under each grade.  This allows the sporadic flow of a stream through this small valley.  It is my understanding that even though one of these grades is now abandoned, the second one still supports the existing rail track – though I did not see the track when I was there.  I did not drive or walk through the culverts – I have to leave something for Dan & I to do the next time we are at the lodge.  I did get out and take a couple of pictures and am curious about what lies beyond the second culvert.
From there, I drove back out and picked up Route 100 a.k.a. Illinois River Road and headed towards Milton and Time.  Each town boasts a two-story gazebo in their town square – a true double-decker delight.  Both of these gazebos, or bandstands, are the center of the festival activity during the Pike County Fall Color Drive, held each year in October.  Just imagine a small-town band playing in the bandstand in the heart of town.  Can you feel a little bit of nostalgia right in Heartland's backyard?
From Time, I headed on to Pittsfield for a late lunch at the Red Dome Inn and the final stop of my journey.  My goal there was to check out item #2 from the Top 10 list – the Abe Lincoln Talking House Tour.  I was amazed that as many times as Dan and I have been to Pittsfield, we never knew this existed.  So, I decided to check it out.
Did you know that Pittsfield claims to have more houses and sites associated with Abraham Lincoln than any other place in the country?  What an amazing piece of history!  And the fact that most of these sites and building are still standing makes it even more incredible.  All of the stops included on the tour have an FM radio station associated with it – just turn to each station and you will hear a short story and history of the building and the residents who lived there.
I began my tour at the Pike County Visitor Center.  Even though I already had my map and radio information, maps can be picked up in the Visitor Center during their normal business hours or in the foyer of the building, which is open all the time.  Even though the houses are on the talking house tour, they are private residences so please be respectful of the owners when visiting.  The gentleman living in the Milton Hay House, my first stop, was outside working when I was reading the sign.  I explained to him that I was checking out the tour, he asked if the radio transmission came through okay and thanked me for stopping – how nice!  I continued along the tour for four or five more houses and then thought I might save some for Dan to hear – I think he would enjoy it.
At the end of the day, I headed home with newly discovered information in my hand.  But YOU will head back to the lodge for dinner, the evening hayride and sunset, and the bonfire with s'mores – lucky you!  I am SOO jealous!
So, the next time you need to get away from things or just want to plan a romantic weekend getaway for that special someone, don't forget to check out all the things to do within a short drive from the lodge.  These are just a few of the sights and sounds you can explore by yourself or with your family.  I still like to use the old-fashioned map but use whatever you want – and grab your camera!  Document your day!  I truly enjoyed my afternoon, and you will too!
Lori Biehl
Nineteen-Year-in-a-Row-Guest
Last Updated: April 4th, 2023