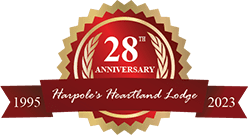 4th of July Getaway in Illinois
Independence Day…another name for July Fourth or the Fourth of July. The 4th of July commemorates the adoption of the Declaration of Independence by the Continental Congress on July 4, 1776. On this date, the 13 American colonies considered themselves a new nation – the United States of America! For this reason, you'll see the patriotic colors of the American Flag – red, white & blue – everywhere!! People hang banners on their porches and display the American Flag in their yards while sporting patriotic clothing!
I think all of us look forward to celebrating the holiday with friends and family…picnics, games, fireworks and more! What if I told you that Heartland Lodge is the PERFECT place to celebrate the extended Fourth of July getaway in Illinois? Load up the family…or grab a group of friends…and head to our resort for a fun-filled getaway!
Celebrate Independence Day Weekend at the Lodge!
So, what activities do we offer while you wait for all the local fireworks displays to begin? You can check out our 15-station sporting clays course, cruise our ATV park on one of our Polaris UTV Rentals (or bring your own), enjoy a leisurely horseback ride through the scenic countryside or relax at one of our ponds for a little fishing (we also offer guided catfishing trips!). Prefer a little more peace and quiet? Our wrap-around porches and Adirondack chairs are the perfect spot for enjoying a cup of coffee and some great conversation (or an afternoon nap.) Or take a hike and enjoy the sights and sounds of Mother Nature…she's definitely a beauty!
Check out Heartland's Lodging Options Here >>
Many local communities will be throwing their own Fourth of July celebrations so you may also want to take a day trip and check out the fun festivities! No matter how you spend your day, just be sure to return to the lodge in time to enjoy our famous evening hayride! The hayride stops and overlooks a scenic view of the Mississippi River Valley. From this view, you'll be able to see Pleasant Hill's firework show (one of the best in Illinois and the Midwest.) Be sure to take in the view…you may also see other firework shows on the horizon overlooking the Mississippi River Bluffs in Missouri! This unique experience is one you will always remember!
July 4th is always an indication that we are halfway through the year so it's a great time to stop, take a breath and make plans to enjoy this summer holiday! Remember, Heartland Lodge provides amazing accommodations, the BEST home-cooking around, and a serene setting to enjoy! Check out our available dates and rates for lodging options on our Resort Rates page. And our Activities & Amenities will provide more information on the variety of things to do while staying at the lodge.
Local Firework Displays
Following is the list of July 4th celebrations for 2023. Enjoy!!
*Sunday, July 2nd, 2023 – Grafton, IL – From 9:00 p.m. to approximately 11:00 p.m., enjoy fireworks from the Grafton riverfront!
*Friday, June 30th – Tuesday, July 4th, 2023 – Hannibal, MO – Hannibal is just a short drive from Heartland and you can spend the entire day (or just a few hours) enjoying the 68th National Tom Sawyer Days, a Hannibal tradition! The National Tom Sawyer Days focuses on family fun where visitors can watch or join in many of the activities, including the National Fence Painting Competition, a frog jumping competition, Tom and Becky Contest, Tomboy Sawyer Competition, Mississippi Mud Volleyball, cornhole tournament, carnival, stage entertainment, dancing, great food, and a spectacular 4th of July fireworks display over the Mighty Mississippi. Learn more here >>
*Tuesday, July 4th 2023  – Pleasant Hill, Illinois – Our neighbors in Pleasant Hill, IL (just 10 minutes from the lodge) will be having their celebration on Tuesday night. Their firework show is one of the best you will ever see! This very nice rural town is what Rural America and Independence Day Celebrations are all about. The fireworks show normally begins right at dusk.
I'm not yet sure what my plans are for the July 4th weekend but I'm sure it will include some time with family and fireworks! I hope you enjoy your visit to the lodge!!
Lori Biehl
Photographer and Blogger
Book a Room/ Check Availability Online Here >>
Activities/ Amenities at the Lodge >>
Last Updated: May 10th, 2023