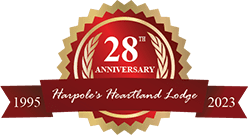 Heartland Wins Business of the Year!
We are very proud of our awesome team for being recognized as the Pike County Business of the Year! Heartland Lodge was among three finalists. The other two finalists are both excellent businesses and are both leaders in our community. We were blessed to be chosen as this year's winner! The award was presented at the annual Pike County Illinois Chamber of Commerce dinner on March 22nd, 2018.
Winning this award would not have been possible without our amazing team. Our team consists of a group of great people who love what they do, love the guests they meet and the teammates that they work with.
This award strengthens our "Purpose" and motivates us to continue working for a cause greater than ourselves. Our Purpose is to help improve our community to be a better place to live, work and visit through exceptional hospitality and leadership.
Our purpose was in our seeds from the beginning, we just didn't realize it. Heartland's owner, Gary Harpole, lived next to his grandfather for a couple years before he passed. His grandfather would tell Gary stories of how Nebo IL (current population 330) was a thriving town back in the day with multiple banks, gas stations, grocery stores and a movie theater. About the same time, Gary was asked by Pike County economic development leaders what could be done to help our local economy. Gary answered, "Just like Colorado uses it's mountains and Florida uses it's beaches, we need to use our natural resources for tourism to help increase economic development".  As a result of these two things, the idea of Heartland Lodge came about. Gary wanted to help revitalize Pike and Calhoun Counties like they were when his grandfather was raising his family.
Today, 23 years later, Heartland has become a preferred destination for people around the world. Its roots as a hunting lodge still stand strong. Heartland is one of the premier outfitters for whitetail, upland, waterfowl and turkey hunting in the world. The resort side of Heartland has grown and is a favorite destination for couples, families, and businesses who all enjoy the scenic beauty and rural country charm that it provides. Activities like ATV and horseback riding, sporting clays, hayrides & bonfires along with other activities and local attractions within a short drive make Heartland a perfect weekend or vacation destination.
Whether you are a guest looking to visit or someone wanting to join our team, you will be an important part of our "Purpose" in making our community a better place to live, work and visit.
Last Updated: March 26th, 2018