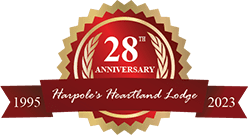 Enjoy the Fall Months at the Lodge!
The fall months are a great time to enjoy Heartland Lodge! With cool weather ahead guests will be taking advantage of all the outdoor activities around the lodge. It's a perfect time to put on a sweatshirt as the sun goes down and take advantage of the cooler temperatures. Who doesn't love sitting around a bonfire with friends and family enjoying the peace and quiet of the fire cracking and enjoying a fire-cooked s'more!?
**Take advantage of our FALL WEEKDAY DEALS HERE >>** (weekday discount automatically applied on the online reservation system)
Pictures of Fall at the Lodge >>
Purchase an Online Gift Certificate Here for the Perfect Holiday Gift! >>
Fall Festivals and Local Attractions
Several local fall festivals and other fun activities will be going on around the lodge! A self-guided Barn Quilt tour or Country Round Trip Tour are all great ways to spend a fall day! Pike County's Fall Pickin' Days will be October 15th & 16th this year. Click here for more local attractions and activities >>
Bonfire w/ Smore's!
You can also just relax and sit outside your room with your favorite beverage on one of our decks and watch all the wildlife and world go by! The gently rolling topography around the lodge creates absolutely stunning views of the brilliant oranges and red leaves. As the sun sets over the horizon, the array of different colors are absolutely breathtaking!
Several other activities to enjoy during the fall months here >>
Gourmet Meals!
Heartland has gained a reputation for excellent dinning! Make sure you take advantage of the meals package when making your reservation! We offer a hearty brunch and supper meal. All meals are homecooked and prepared daily. You will not leave hungry!!
For availability go to DATES AVAILABLE>> or e-mail us at info@heartlandlodge.com. We are in the office daily Mon-Sat. 8-5. Give us a call at 217-734-2526.
More information for visiting the lodge during the fall months here >>
Purchase a Gift Certificate Here >>
Last Updated: October 20th, 2022