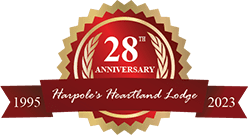 Annual Anniversary Trip Has Come and Gone!!!
Another year has passed, and Dan and I have just returned from our annual anniversary trip to Harpole's Heartland Lodge – the lodge that we have visited every year since we got married 13 years ago.  This year, our actual anniversary was on Tuesday so we arrived at the lodge late Monday night and left Wednesday morning.  Again, we enjoyed great hospitality, great food and great accommodations – what more could we want?
Because I work for an auction company, my work schedule includes working weekends.  And even though Dan works a full-time job during the week, he sometimes works the weekends also, so by the time Monday rolls around, we are ready for some peace and quiet.  We have found over the years that we enjoy going to the lodge in the middle of the week – it's almost like playing hooky – from work AND life at home.  By going to the lodge on a weekday, we feel it gives us the chance for some rest and relaxation – something I'm sure most of us need at some point.
So for two days, Dan and I slept well, ate well, and were in good company.  There were anywhere from seven to nine guests for breakfast and dinner this week and what I found interesting was that each couple or family had a different purpose for staying there.  One young couple was from the metropolitan St. Louis area and her father was from Wisconsin so they basically 'met in the middle' for a few days of family time.  Of course, we saw them on the ATV trails Tuesday morning, so they were able to enjoy the outdoors while catching up with each other.
Another couple from the St. Louis area came on the suggestion of a friend and explored the lodge property by walking some of the trails available.  Dan and I enjoy horseback riding, so we had a nice ride Tuesday morning after a nice morning rain.  At one point while riding, we ran into both the couple that were walking and the family that were ATV riding.  I don't think in all the years that we've been going to the lodge that we had that many guests enjoying a variety of activities all in the same place at the same time.  Everyone had a different reason for being there but yet the dinner table wasn't the only place that we all came together – even if it was just for a couple of minutes.
One couple came in Tuesday afternoon from Des Moines, IA and was headed home on Friday – how nice to be able to stay and enjoy the week at Heartland.  They said they normally drove ten or more hours to take a vacation getaway but decided to try something a little closer to home – the drive from Des Moines to the lodge was a little more appealing and they were really enjoying the atmosphere.
Dan and I had wanted to do something different this year and go ATV'ing but time and weather just weren't on our side.  The lodge had received a lot of rain since last Friday night – obviously, the remnants of Hurricane Isaac affected a large portion of the Midwest.  But even though they had received rain over the weekend (and it rained some each morning we were there), everyone was still able to enjoy the activities available.  Some trails were not passable for the horses but I'm thinking if you were an experienced ATV'er, the wet, muddy trails would have been just what you wanted.  But even a novice rider could find trails to ride at ATV (or horse) and still enjoy the ride.
As always, we hated to leave but we have already booked our trip for next year.  We just find it easier to make all reservations when we leave and then we have something to look forward to.  We mark it on the calendar (sometimes) but we always know where we'll be when our next anniversary rolls around.  We headed south from the lodge – we were headed to Eckert's in Grafton to pick apples (see last week's blog) but along the way we stopped to take pictures of the Barn Quilts located in Calhoun County.  We just didn't have time to stop and see them all but I will definitely go back so watch for a future blog about them.
Since I began writing these blogs back in February, my relationship with Gary and Wanda has grown to a whole new level but one thing remains constant – they provide a first-class place for people of all walks of life to come and enjoy!  And thank you, Wanda, for the peanut butter pie!  Now I see why it's one of your favorites!  And along the way, something has changed with this blog.  Can you tell what it is?
Lori Biehl
Fourteen-Year-in-a-Row-Guest
Last Updated: September 8th, 2012