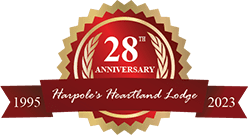 My Heartland Gratitude Journal!!
Gratitude…defined by The Random House College Dictionary as "the quality or feeling of being grateful or thankful"…is something that I've thought about a lot over the last few months. Throughout the year, people that I've met have said that a person should wake up each day "with a sense of gratitude" or that keeping a gratitude journal really does make a difference in our daily lives. I also have a couple of Facebook friends who have been participating in "30 Days of Thanks" and posting something that they are thankful for each day. Some of their posts are serious and some are fun but it certainly has me thinking of things that I'm grateful or thankful for.
So I decided earlier this summer that I was going to start a gratitude journal…and even went out and bought a pretty little journal to start using. But as with most things I plan to do, life sometimes gets in the way and I have not written the first entry. So, since today is Thanksgiving and I'm going to be spending it with some of my family, it seems like an appropriate time to make that first entry!
Studies have proven that people who are genuinely grateful are happier than those who don't give gratitude a second thought. And in the world that we live in today, I think more people should think about being grateful…and maybe we wouldn't have some of the anger that we do. I have found personally that it does take a commitment that you make to yourself to begin this process…so I understand where it might be hard for others to feel grateful, especially in times of heartache and frustration.
Even though the purpose of a gratitude journal is a personal one…and one that has been shown to have great emotional and health benefits…my personal gratitude journal will be kept at home for my eyes only. However, in thinking about what I'm grateful for in my life, I realized that some of my entries come from my relationship with Harpole's Heartland Lodge. So it only seems fitting to share my Heartland Gratitude Journal with you! From what I've been told, a person should strive to write down five things each day for which they are grateful or thankful so here goes!
I am grateful for the extended family that Dan and I have found at Heartland…from Gary and Miss Wanda to their entire staff! It doesn't matter if we are at the lodge for our annual anniversary trip or just there for the day working on photos, everyone greets you with a smile on their face and love in their hearts. If you've ever visited Heartland, you know exactly what I'm speaking of…and that's one of the reasons we have continued our annual anniversary tradition.
I am grateful for the opportunity to share my experiences with you through these blogs. I was definitely a little bit hesitant when Gary first contacted me about for him – I didn't even read blogs at that point – but I am so glad that I took the chance! I enjoy 'playing' as I sometimes call it but by doing so, I can enjoy all that the surrounding areas have to offer and then share them with you. Thank you for letting me be a part of your life!
I am grateful for the many people that I have met through the lodge…from guests at the dinner table to the girls enjoying the lodge's Girls' Getaway Weekends to all the interesting people in the communities. If it had not been for the opportunity given to me by Gary, my path may never have crossed those of so many that I have enjoyed working with during the last couple of years.
I am grateful that my relationship with Heartland Lodge allows me to showcase my photographs and work on my photography skills. Because of the opportunities that have presented themselves, my work has been used on Heartland's website and Facebook page, on their hunting tradeshow booth display and even published in a national magazine! Not only is it exciting to see your work displayed, but it is rewarding to meet and work with people I might never have met otherwise, including other photographers whose work inspires me (stay tuned for more information on this!)
Lastly, I am grateful that I have been forced outside of my comfort zone in some areas. I enjoy writing but hadn't written anything for the public to read since I was in college…now I write blogs for not only the lodge but also the auction company I work for and I have assisted Gary with content for some of his web pages. I love taking photographs but I never thought I'd be in a duck blind before sunup or walking the fields with pheasant hunters. My comfort zone is expanding…who knows what I'll be doing next!
So how does one get started with their own gratitude journal? Grab a pretty journal or tablet and start writing. You don't need to make your entries lengthy or detailed…sometimes simple is best. I'm not very good at writing something every day like they recommend so I plan to start off slowly…maybe one or two entries each day…or maybe even once every few days until I get in the habit of daily entries. One thing I do know is that whenever I am at the lodge…working, staying or just hanging out…I want my journal to be with me. I am finding that each time I am there I realize that there is so much in life to be grateful for. And I am confident that the natural beauty of the lodge and the surrounding landscape will inspire your own thoughts of gratefulness.
So the next time you visit Heartland Lodge, grab a pen and your journal! Pull up a chair on the porch, curl up in a comfy chair in the reading corner, or take a walk around the lodge…just find a quiet little spot and reflect on the things in life that you are thankful for…family, friends, and health…the list goes on and on!
There is now a certain amount of accountability that comes with putting my Heartland Gratitude Journal out here for you to see. I have to focus on my personal gratitude journal. When I really stop to think about it, I definitely have so much to be grateful for…and my life is better because of those things. However, they are personal and will remain that way for now.
Lori Biehl
Sixteen-Year-In-a-Row Guest
Last Updated: November 27th, 2014