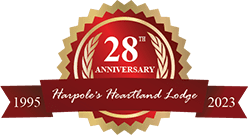 Quail Ridge Cabin Press Release
PRESS RELEASE


For Immediate Release
Harpole's Heartland Lodge expanding lodging options and creating a new vision for growth in Pike, Calhoun and Surrounding Counties!

Nebo, IL (April 2023)— Harpole's Heartland Lodge, located in Pike County, Illinois has recently acquired a new lodging option for guests to enjoy- the Quail Ridge Cabin. This quintessential cabin is located a few miles from the main resort on a quiet, dead-end road. It sits atop a beautiful knob overlooking gently rolling meadows, agriculture fields and forest. It offers 4-bedrooms, a fully equipped kitchen, large dining room and outdoor sitting area with a picturesque view.
"The scenic countryside of Pike and Calhoun Counties paired with our intricate lodging options, several on-site activities, recreation opportunities and local attractions create an unapparelled experience unlike anywhere else in the Midwest that attracts guests from across the globe to enjoy year-round! We expect the Quail Ridge Cabin to boost local tourism and create more job opportunities within the community as outdoor recreation tourism continues to grow in popularity. " -Gary Harpole, Heartland's owner.
---
Boost to Local Economic Growth
The focus of acquiring this new 2,500 sq.ft. cabin is to bring more tourists into the region on a year-round basis and to have them spend money in our communities. Some will invest in our communities by purchasing land, building their own cabins/homes, and starting new businesses along with other development.
Guests staying at these cabins will be encouraged to visit local attractions, events, stores, and restaurants. Along with weekend getaways, longer vacation stays will be promoted. The cabins will serve as a "home base" for vacationing guests. Along with our local county attractions, activities within an 80-mile radius of the resort will be promoted.
This cabin continues Harpole's Heartland Lodge's goal of making Pike County, Calhoun County and West-Central Illinois a better place to live and visit through increased tourism. This cabin will help build on the recent trend of tourism, driving economic growth for the region. The following are some of the positive impacts this cabin could provide to the local economy:
An estimated 1,300 new tourists visiting Pike & Calhoun Counties annually and staying at this cabin alone.

Some visitors may decide to return and invest in the community.

Visitors will be encouraged to shop at our local restaurants, grocery stores, and retail establishments.

Visitors from this cabin alone will inject over an estimated $400,000 annually into our local economy. (This includes gas, food, and shopping in our community along with money spent directly at Heartland Lodge and its multiplying effects to the local economy.)
Estimated potential annual sales tax generated – $20,400

New jobs will be created at Heartland Lodge.
This cabin will create new jobs and will help to sustain current jobs. As a result of our tremendous growth, and expected future growth, we are currently hiring for several positions. Visit HeartlandLodge.com/Team for more information or call 217.734.2526.
New business opportunities could be created for those in our community that will cater to cabin guests. Massage therapists, photographers, in-cabin chefs and meal providers are just a few of the potential opportunities.
---
Making our Community a Better Place to Live & Visit
This cabin complements the recent addition of the Private Luxury Cabins (1,500+ guests annually) Heavenly View Cabin (1,500+ guests annually) and the new ATV/OHV Park (4,000+ annual visitors), in addition to Sunset Valley Lodge (4,200+ annual visitors), and the Original & Prairie Ridge Lodges (10,000+ annual visitors). In 2023, the entire Heartland Lodge Resort will attract 20,000+ visitors from all over the world to Pike & Calhoun Counties, injecting millions of dollars into our economy, impacting local restaurants, grocery stores, and retail establishments.
The entire team at Heartland Lodge is dedicated to making our community a better place to live and visit. It is a vital part of our core values and what motivates us to work hard every day.
This new cabin can be the incentive that brings people to our area. Once guests are here, we need to sell them on our community. One of Heartland's core goals is to attract new visitors to our area that will re-invest and boost our local economies. Some visitors may want their own land and build their own new cabin or housing. The more we can encourage this, the more it could grow our tax base and provide relief to current property owners. Many of these new developments could be hundreds of thousands of dollar weekend and vacation homes. Currently we are losing permanent residents who can afford these homes to more populated areas. This will help replace that void.
There are many new economic "branches" that can sprout from this new economic "tree" if it reaches its full growth potential.
More information on the Quail Ridge Cabin >>
---
About Harpole's Heartland Lodge:
Heartland Lodge is located in the rolling hills West-Central Illinois. Our resort offers horseback trail riding, ATV/UTV riding on 1,400 acres and 60+ miles of trails, UTV half and full day rentals, sporting clays course, multiple fishing ponds, premium upland/ deer/ turkey/ waterfowl hunting packages and several other activities! Guests are welcome to bring their own side by side, dirt bike or ATV as well! Heartland has individual suites, private luxury cabins and multiple lodges with several rooms for larger groups. Bring the entire family and friends, host your wedding or corporate retreat, family reunions and more! Our lodge is the only Orvis and Shooting Sportsman endorsed lodge in the state of Illinois! Visit HeartlandLodge.com or give us a call at 217-734-2526 for more information!
Quick Links
Full List of Activities & Amenities >>
Corporate Retreats/ Conference Center Information >>
Whitetail, Upland, Waterfowl & Turkey Hunting Packages >>
Last Updated: April 24th, 2023